Autel AutoLink AL619 OBDII CAN ABS and SRS Scan Tool Update Online
AutoLink AL619 is built to help you determine why the Malfunction Indicator Light or the ABS / SRS warning light is on. Featuring ABS/SRS system diagnosis, TFT color display, built-in speaker, troubleshooter code tips, the tool is truly ultimate in power and affordability.
Top 4 Reasons to Get Autel Autolinc AL619:
1.Supported Language: German French Spanish Portuguese Polish Italian Dutch Russian
The default language is English, after you receive the item from us, please register on Autel official website, and pass me serial number, we will change the language you want.
2. Vehicle coverage: GM, Ford, Chrysler, Audi, Benz, BMW, Bentley, Bugatti, EU Ford, Mini, Maybach, Seat, Skoda, VW, Volvo, Acura, Honda, Hyundai, Infiniti, Kia, Lexus, Mazda, Nissan, Scion, Toyota, Peugeot, Citroen.
3. Update Online
4. Works on ALL 1996 and newer vehicles (OBDII & CAN)
Autel AutoLink AL619 Features:
Diagnoses ABS/ SRS system codes on most 1996 and newer major vehicle models
Retrieves generic (P0, P2, P3 and U0), manufacturer specific (P1, P3 and U1) codes and pending codes
Turns off Malfunction Indicator Light (MIL) and ABS/SRS warning lights, clears codes and resets monitors
Reads, stores and playbacks live PCM datastream and live sensor data
Retrieves vehicle information (VIN, CIN and CVN)
Troubleshooter code tips guide technicians to the root cause of trouble codes faster
Multilingual menu and DTC definitions – English, Spanish and French
TF memory card for data backup and software update
Internet updatable and upgradable
Autel AL619 Vehicle coverage:
The AutoLink AL619 OBDII/EOBD Scanner is specially designed to work with all OBD II compliant vehicles, including those equipped with next-generation protocol — Control Area Network (CAN).Vehicle coverage: Acura, Audi, Bentley, Benz, BMW, Bugatti, Chrysler, Ford, EU Ford, GM, Honda, Hyundai, Infiniti, Isuzu, Jaguar, Kia, Land Rover, Lexus, Maybach, Mazda, Mini, Mitsubishi, Nissan, Opel, Porsche, Saab, Scion, Seat, Skoda, Smart, Sprinter, Suzuki, Toyota, Vauxhall, Volvo, VW, Renault, Peugeot, Lancia, Fiat, Dacia, Citroen, Alfa, Abarth
(Abarth, Alfa, Citroen, Dacia, Fiat, Lancia, Peugeot, and Renault are only for AL619EU)
Autel AutoLink AL619 Specification:
Display TFT color display (320 x 240 dpi)
Operating Temperature 0 to 60°C (32 to 140 F°)
Storage Temperature -20 to 70°C (-4 to 158 F°)
External Power 8.0 to 18.0 V power provided via vehicle battery
Length\Width\Height 199 mm (7.83")\104.5 mm (4.11")\37.5 mm (1.48")
Autel Autolink AL619 Update:
User would update the scan tool ONLY after you had registered the tool on autel official website: www.auteltech.com. Then you could download software, update online, retrieve information and get warranty service.
Autel AL619 Manual:
To prevent personal injury or damage to vehicles and/or the scan tool, read Autel Autolink AL619 usermanual first.
Autel AutoLink AL619 Package Including:
1pc x Protective Nylon Case
1pc x 3.7V Li-ion battery
Autel AutoLink Comparision: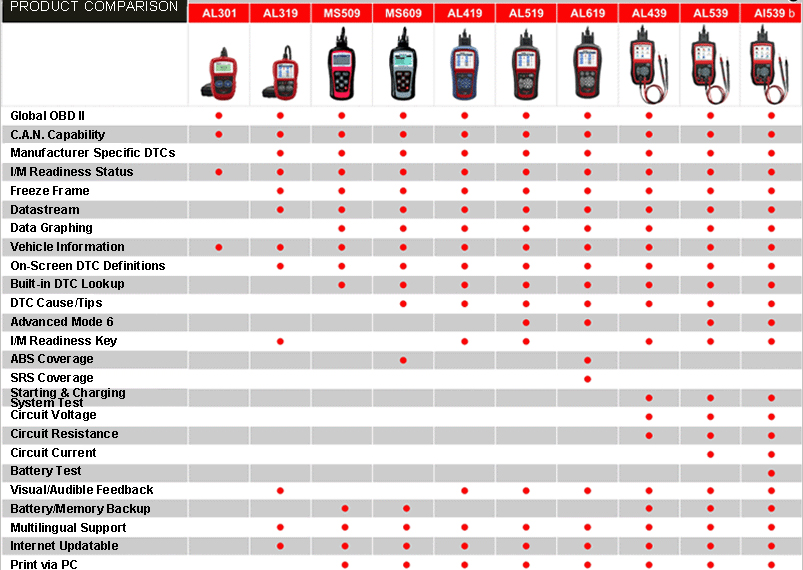 Comparation of OBDII and CAN Code Reader: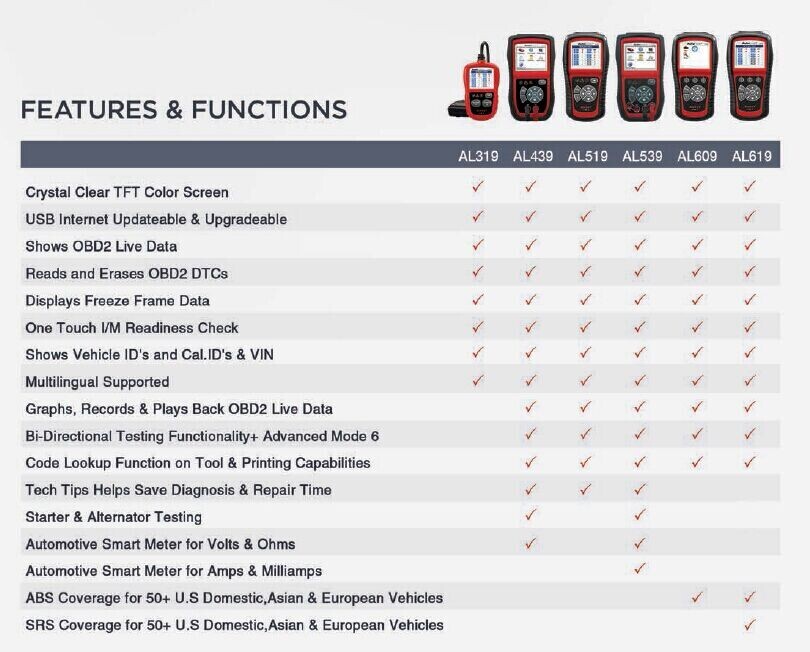 Autel AutoLink AL619 Related Pictures: