Autel MaxiCOM MK808TS Automotive OBD2 Diagnostic Tool Car Scanner TPMS Service Programming Sensor and Bluetooth PK MK808 MS906TS
Autel MK808TS, as an advanced Android-based tablet diagnostic tool featuring all-around fixes of Oil Reset/EPB/BMS/SAS/DPF/IMMO and the comprehensive TPMS service, is the ideal combination of MK808 and TS601 (Same Functions as MaxiTPMS TS608 )for DIY enthusiasts and auto repair stores to get faster and more accurate diagnosis.
Perfect Combination for a Diagnostic Scan Tool
Compared with MK808: Autel MK808TS offers the same features and functions as MK808 does, also it comes with additional benefit of TPMS function to perform TPMS Sensor Check, TPMS Relearn, TPMS Sensor Programming to all known OEM/Universal TPMS sensors for helping technicians to quickly locate the faulty sensor and turn off the MILs related. Compared with TS608: Autel MK808TS offers the same features and functions as TS608 does.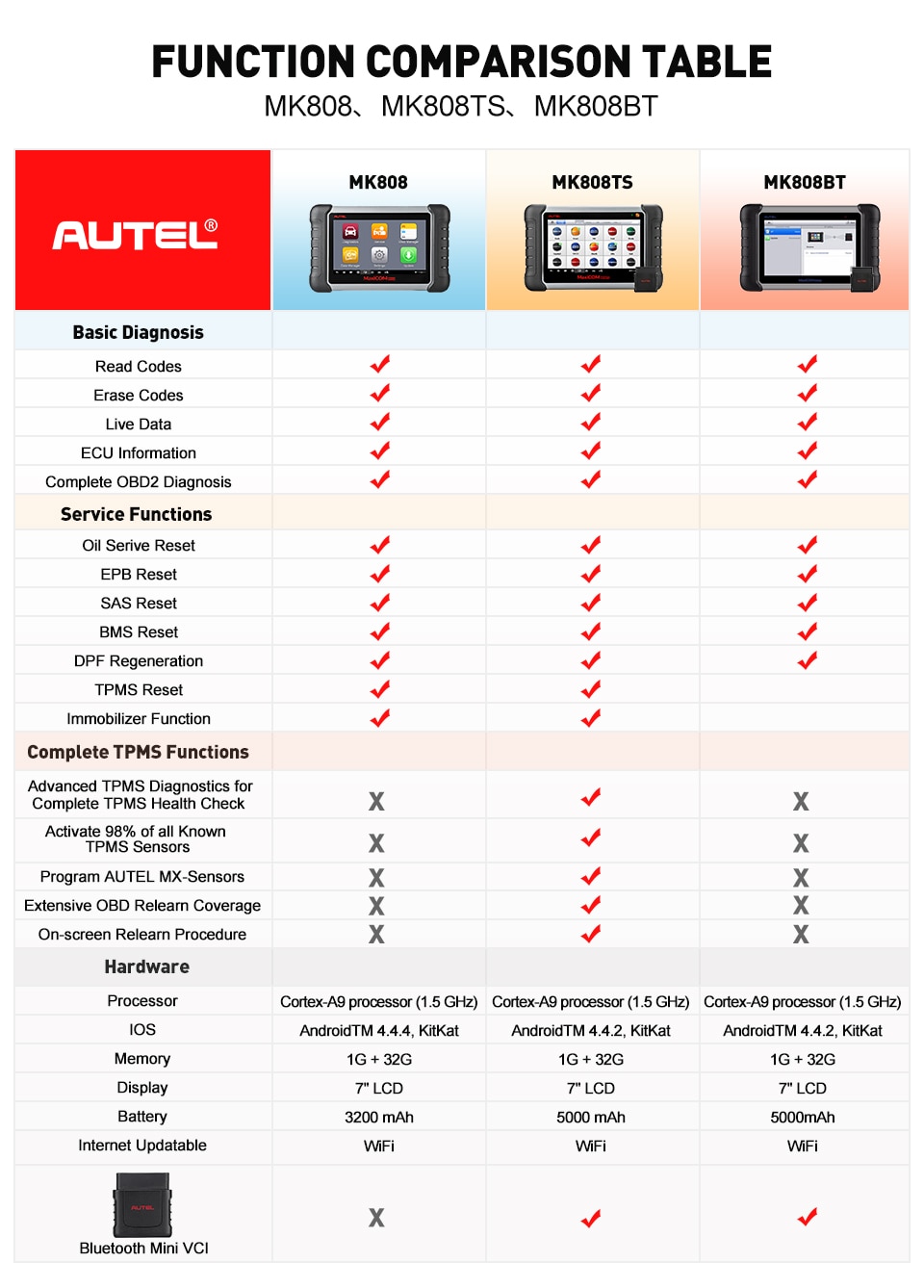 COMPLETE TPMS FUNCTIONS
 Autel MK808TS is specially designed to provide the complete TPMS service as MaxiTPMS TS608 including TPMS health check, programming and relearn etc., for helping technicians to quickly find out the faulty sensor and turn off the MILs related. 1.Activate all known TPMS sensors and read sensor status; 2.Diagnose ECU for coMPLete TPMS health check with DTC description; 3.Read DTCs from ECU and erase DTCs; 4.Program MX-Sensors by copying original sensor IDs or creating new IDs randomly; 5.On-tool relearn procedure and wide OBD relearn coverage; 6.Toolkit, special TPMS functions;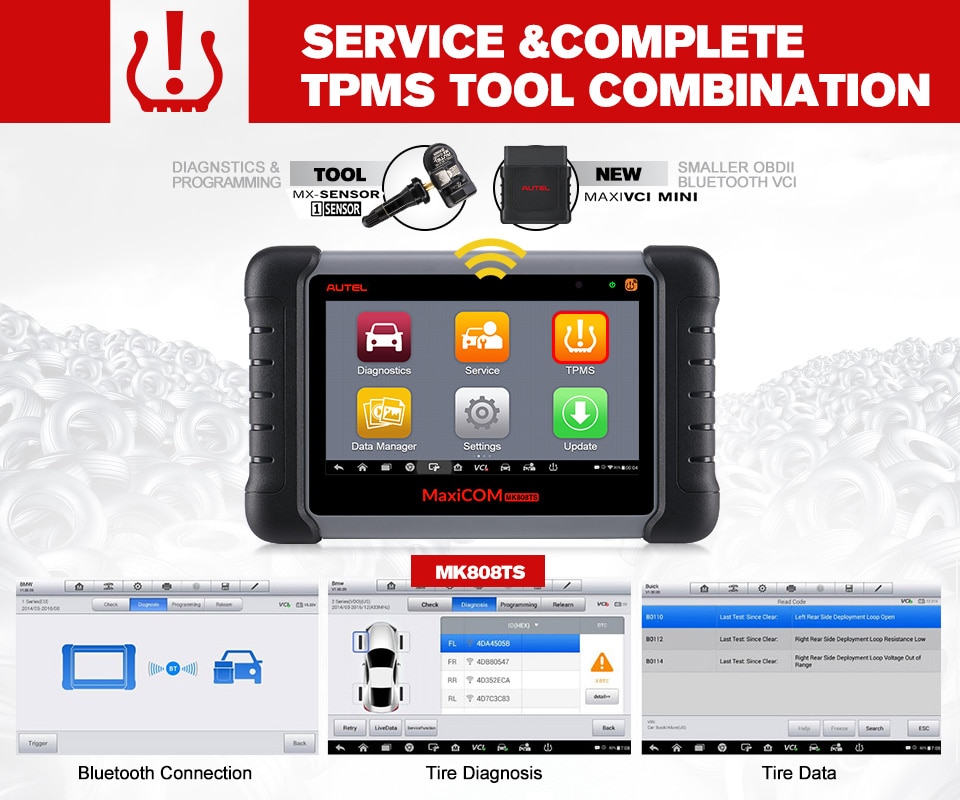 WIRELESS Bluetooth MAXI-VCI MINI
The latest compact size Wireless Bluetooth MaxiVCI Mini OBDII connector can transmit vehicle data to the tablet without a physical connection. Enhanced wireless Bluetooth connectivity between the tablet and VCI device allows greater service mobility and easier TPMS sensor interaction while the tablet is still connected to the vehicle for data transmission.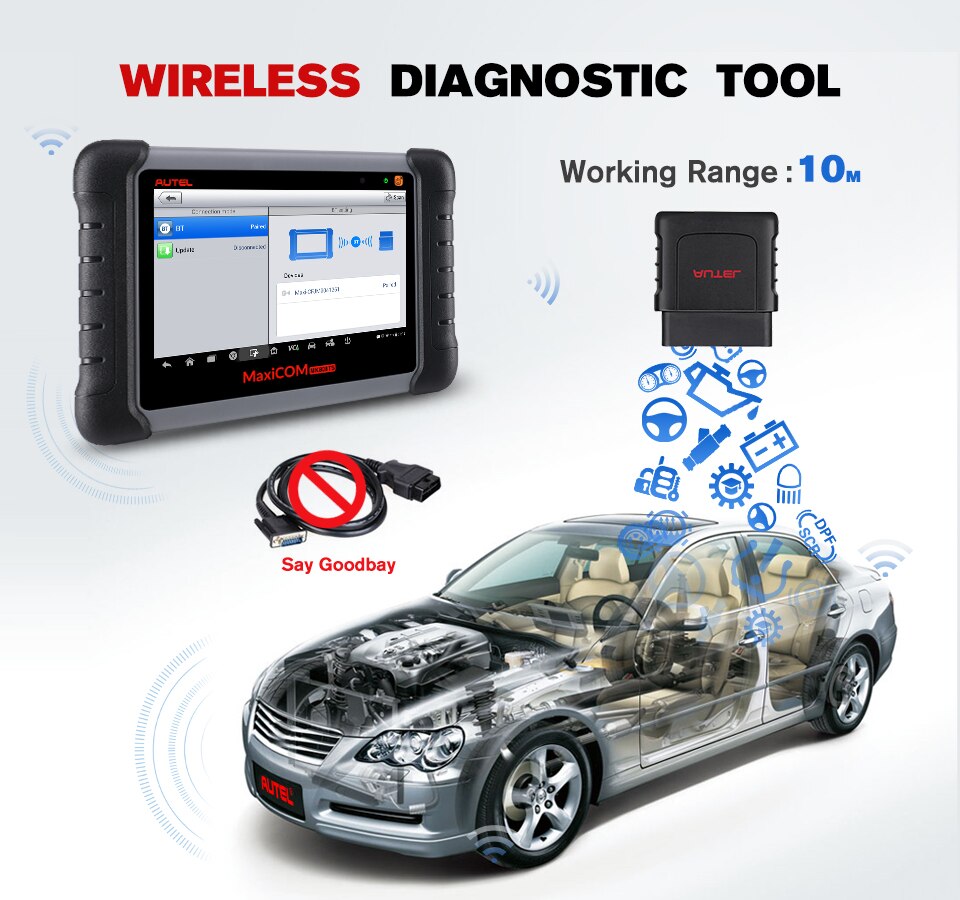 ALL SYSTEMS DIAGNOSTICS
Besides featuring the quick and precise full OBDII functions, this automotive diagnostic scanner can also work on all available system modules in vehicles for technicians to diagnose coMPLex problems accurately. 1.Read/clear codes for all available electronic systems; 2.Turn off warning lights; 3.Display live data in text, graph & analog for easy data review; 4.Supports all 10 test modes of the latest J1979 OBD II test specs; 5.Enhanced OBDII Mode 6; To diagnose Brake System if you feel the brake pedal is mushy and notice unusual odor or noise, etc. A properly operating brake system is critical to ensure safe vehicle control and operation; To diagnose Emission System if the system is affected by vehicle age or poor quality fuel. A good emission system reduces harmful gases to a large degree and protects you from being fined; To diagnose Fuel system if vehicle won't start or "Check engine" light is illuminated. Check car's fuel system regularly ensures the best performance of your car with the lowest emissions; To diagnose Transmission if your car is slipping or difficult to shift. The system plays an important part in the overall performance of your car; To diagnose Wiper System if you observe chattering or streaking wiper. If the car is not regularly checked, the accident might happen because you can't see clearly; To diagnose Light System if you see rapid signal blinking or dimming lights. And many more …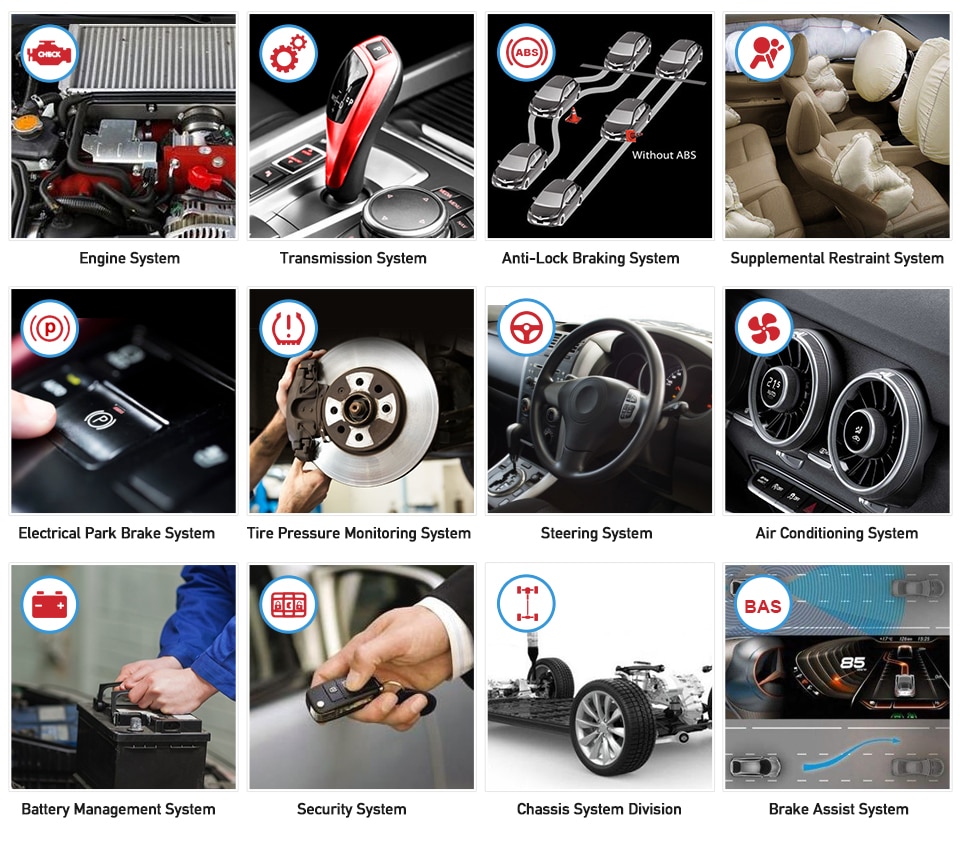 ADVANCED SERVICE FEATURES
MK808TS provides the most commonly-performed capabilities including Oil reset, EPB/SAS/BMS/DPF/IMMO service as MaxiCOM MK808 & MX808TS does, to meet users' demand for efficient repairs. Oil Reset service allows you to perform reset for a new calculation of Engine Oil Life system once changed the oil. EPB service plays an important role in the maintenance of electronic braking system's safety and efficiency. BMS service allows the scan tool to evaluate the battery charge state, monitor the close-circuit current, register the battery replacement, and activate the rest state of the vehicle. DPF service specially works for Diesel Particulate Filter system with DPF regeneration, DPF component replacement teach-in and DPF teach-in after replacing the engine control unit. SAS service helps clear the faulty steering angle sensor memories and plays an important role in the steering angle sensor calibration. IMMO is mainly used to disable the lost vehicle keys and program a new replacement key fob. And Many More…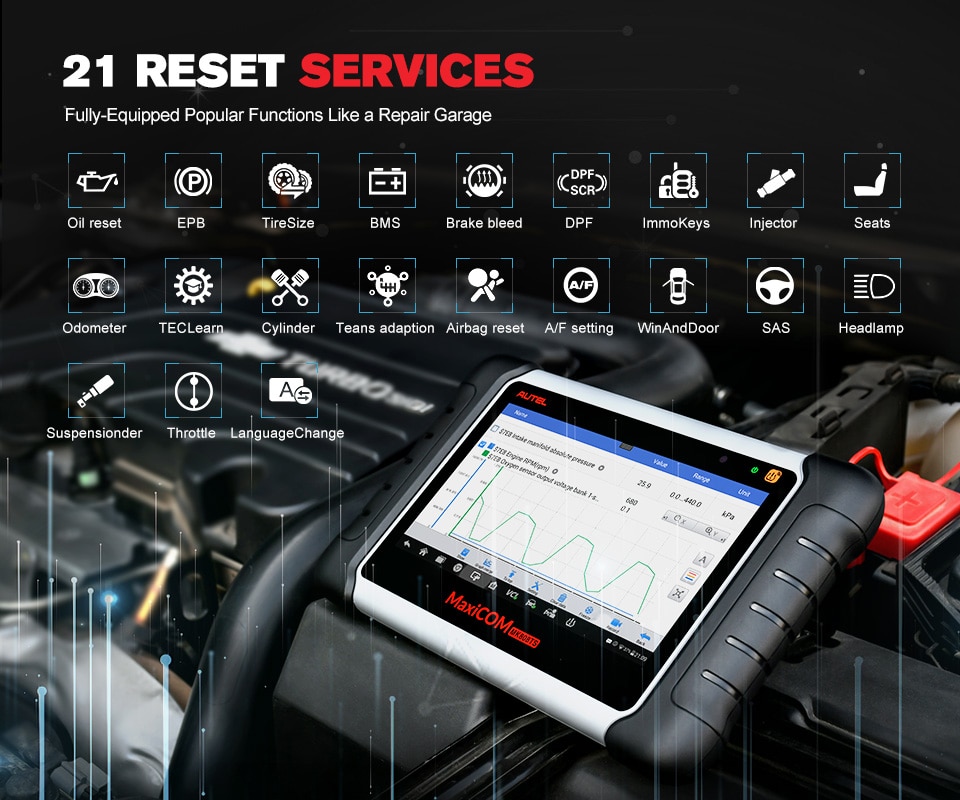 COMPLETE OBD2 FUNCTIONS
Reading Codes: Show the detailed description of the Diagnostic Trouble Code (DTCs) Erasing Codes & Reset: Turns off Check engine Light (MIL), clears codes and resets monitors. Data Stream: Reads and displays live ECU/PCM data stream, plotting functions graphically and stores freeze frame data. I/M Readiness Status: Shows whether the various emissions-related systems on the vehicle are operating properly and are ready for inspection and maintenance testing. Read Live Data Stream: Show the information of continuous data stream from a vehicle in live graphic (waveform) display. View Freeze Frame Data: Check the certain vehicle conditions which are recorded by the on-board computer at the time the emission-related fault occurs. O2 Sensor Test: Allows retrieval and viewing of O2 sensor monitor test results for the most recently performed tests from the vehicle's on-board computer. On-Board Monitor Test: Retrieves and displays test results for emission-related powertrain components and systems. Read Vehicle Information: Display the information such as VIN (Vehicle Identification Number), CID (Calibration ID) and CVN (Calibration verification number), etc. Component Test: Certain vehicle components can be actuated by commands sent from the scanner to test their operability.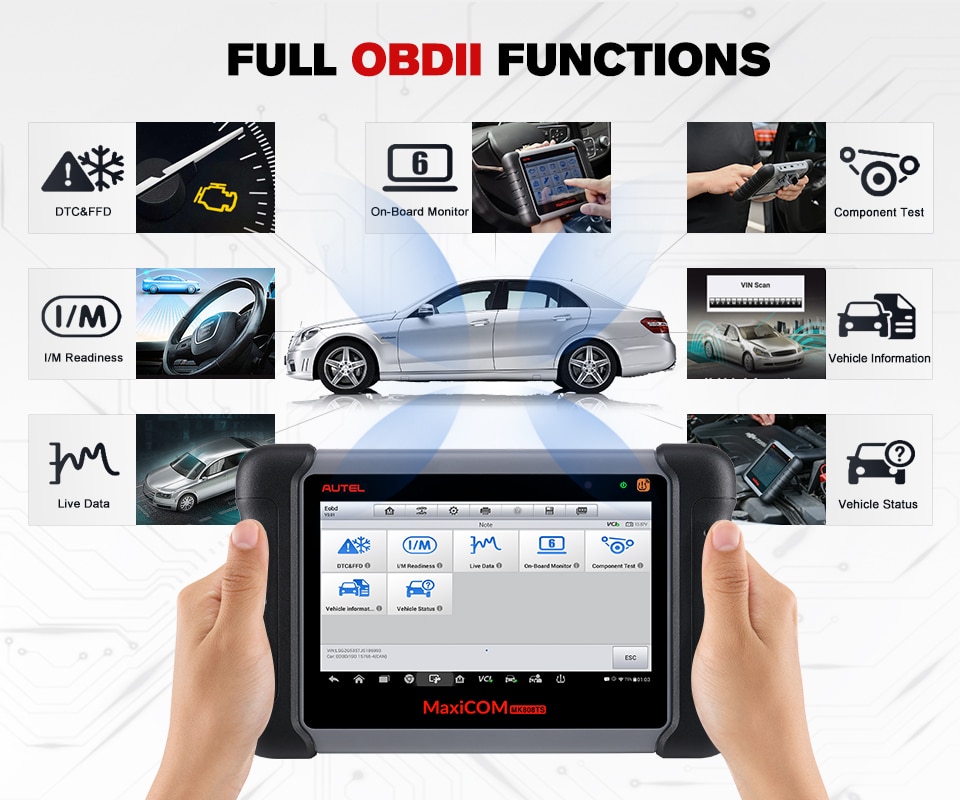 4 methods for Vehicle Identification
1.Auto VIN Scan The MaxiCOM diagnostic system features the latest VIN-Based Auto VIN Scan function to identify vehicles and scan all the diagnosable ECUs and run diagnostics on the selected system. This function is compatible with 2006 and newer vehicles. 2.Manual VIN Input: For vehicles not supporting the Auto VIN Scan function, you may manually enter the vehicle VIN. 3.Automatic Selection: The Auto VIN Scan can be selected after selecting the test vehicle manufacturer. 4.Manual Selection: When the vehicle's VIN is not automatically retrievable through the vehicle's ECU, or the specific VIN is unknown, the vehicle can be manually selected.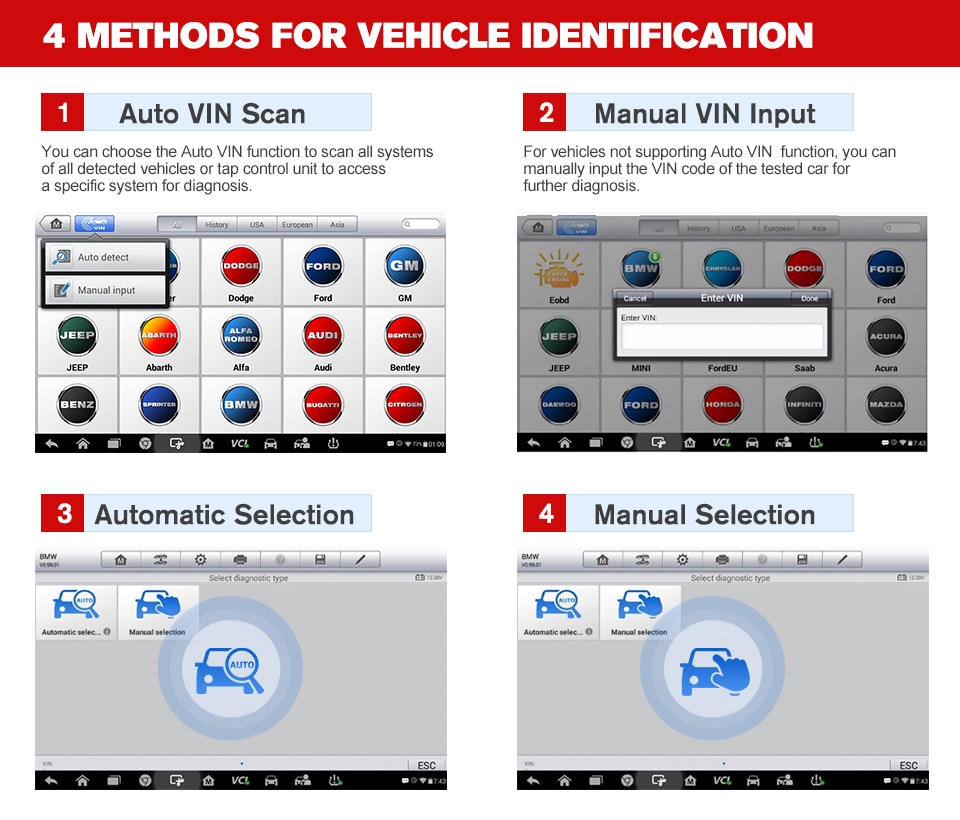 Remote Technical Support
By using this function, users can receive ad-hoc remote support from Autel's technical engineers, colleagues, or friends, by allowing them to control this tablet device on their PC via the TeamViewer software.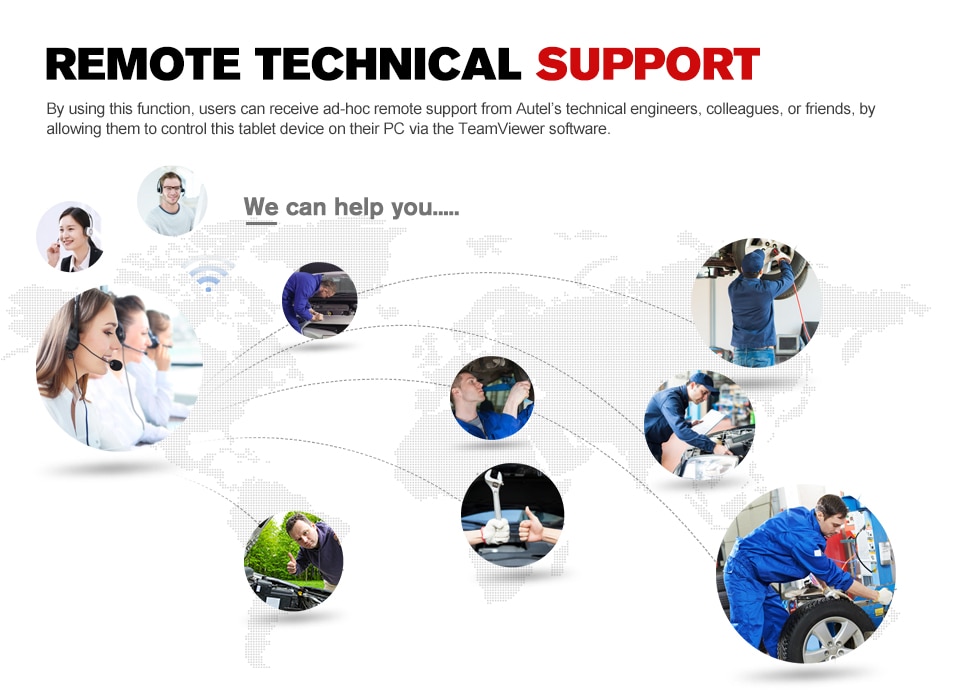 Multiple Vehicle Models
Asia: For Acura, Daewoo, Holden, Honda, Hyundai, Infiniti, Isuzu, Kia, Lexus, Mazda, Mitsubishi, Nissan, Scion, SsangYong, Subaru, Suzuki, Toyota, BYD, ChangAn, Chery, DFM, FAW, Foton, Geely, GreatWall, Haval, JAC, Lifan, Luxgen, MG, Zotye Europe: For Abarth, Alfa-Romeo, Alpina, AstonMartin, Audi, Bentley, Benz, BMW, Citroen, Dacia, Ferrari, Fiat, Jaguar, Lamborghini, Lancia, LandRover, Lotus, Maserati, Maybach, Mini, Opel, Peugeot, Porsche, Renault, Rolls-Royce, SAAB, Skoda, Smart, Volvo, Volkswagen USA: For Buick, Cadillac, Chevrolet, Chrysler, Dodge, Ford, GMC, Hummer, Jeep, Lincoln, Mercury, Oldsmobile, Pontiac, Saturn, Tesla
English, Traditional Chinese, French, German, Spanish, Portuguese, Dutch, Polish, Swedish, Korean, Japanese, Russian, ItalianEnglish, Traditional Chinese, French, German, Spanish, Portuguese, Dutch, Polish, Swedish, Korean, Japanese, Russian, Italian After get the machine, please contact with seller to activate language.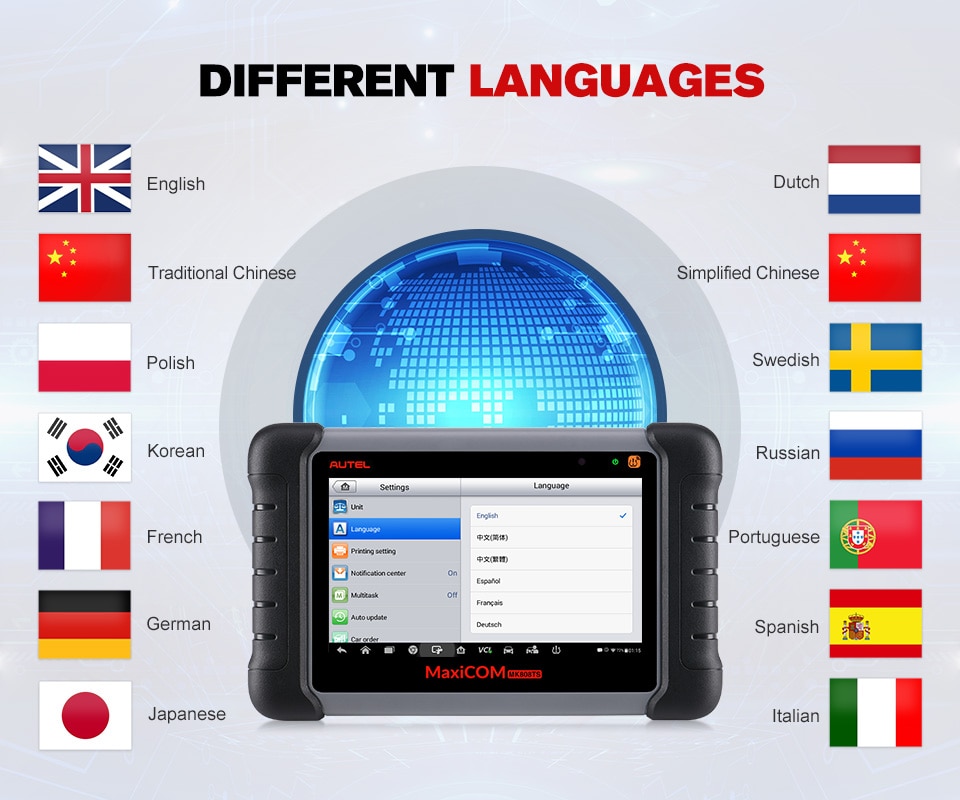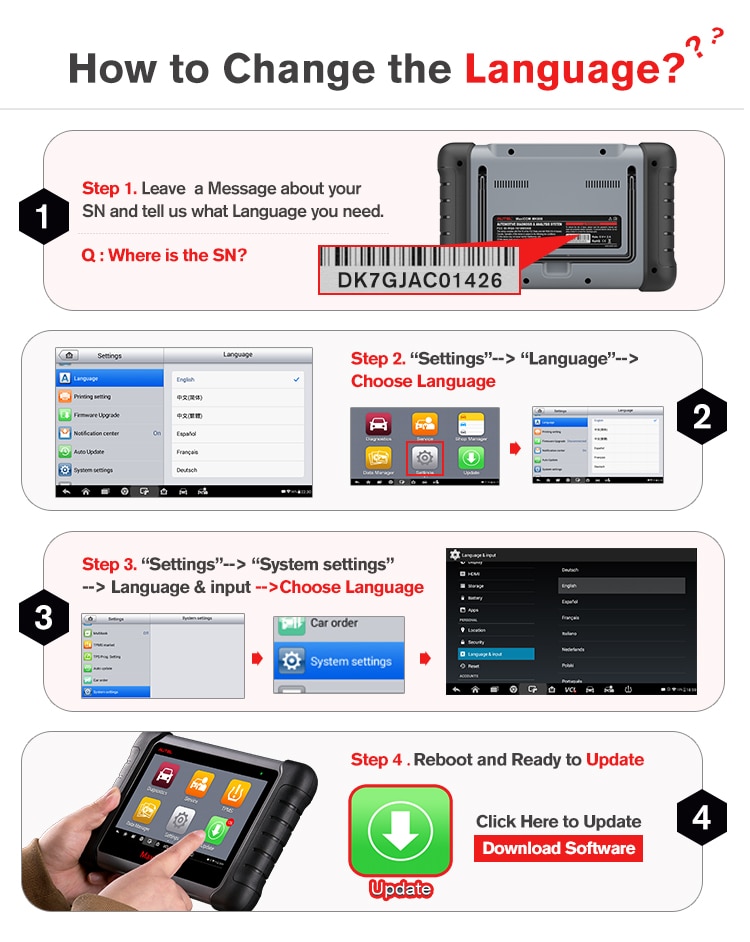 Advanced Hardware
Android 4.4.4-based tablet diagnostic tool greatly improves the working efficiency with performance and power optimized 1.5GHZ Cortex-A9 Processor. 7 inch touchable LCD screen with 1024*600 resolutions offers ultra-clear visuals of the diagnostic data, making it easy to navigate and read codes. 1GB RAM DDR3 / 32GB On-Board ROM Memory is not only an extended storage space but a way to reduce the possible issue of slow response. Built-in 5000 mAh battery provides up to 7 hours continuous battery life for giving you a worry-free operation experience. MaxiVCI Mini is equipped for connecting between the diagnostic tablet and DLC for wirelessly vehicle data transmission via the fast and reliable Bluetooth 2.1 EDR, allowing technicians to have complete freedom to move anywhere in the repair shop when the VCI is connected to the car.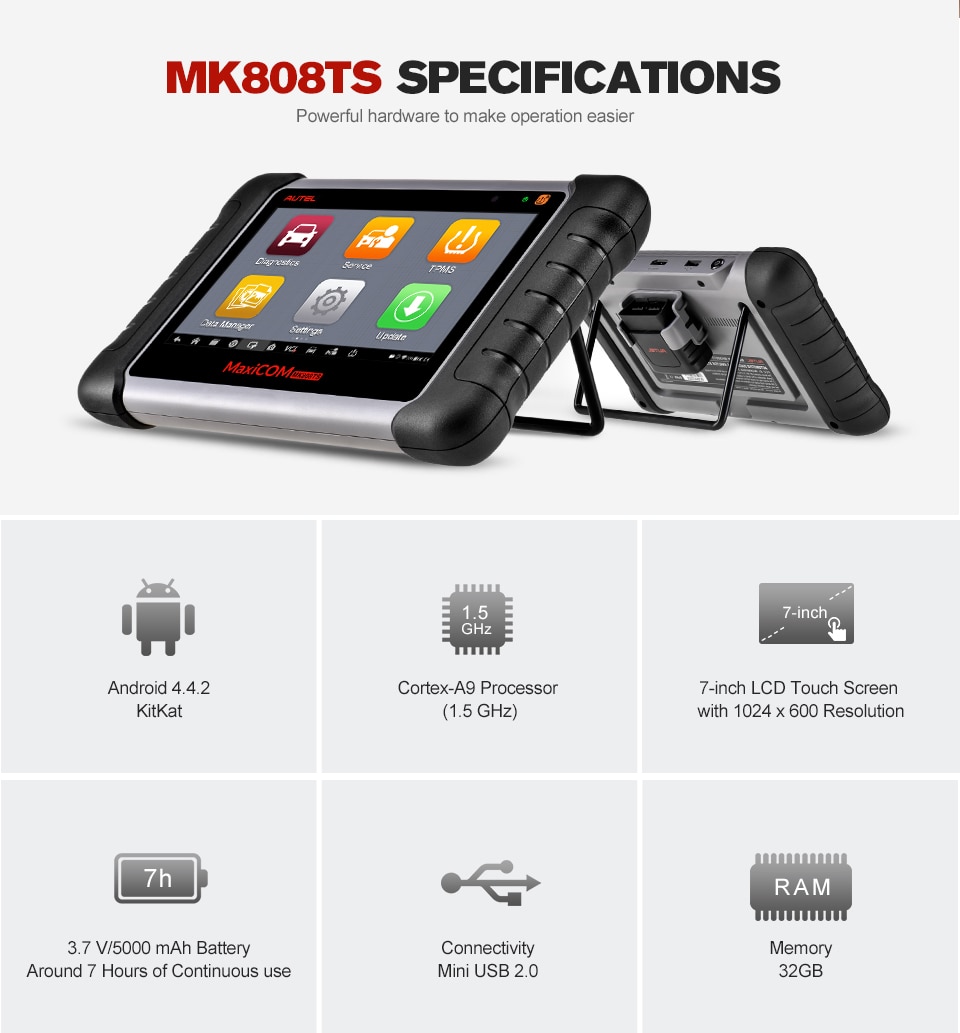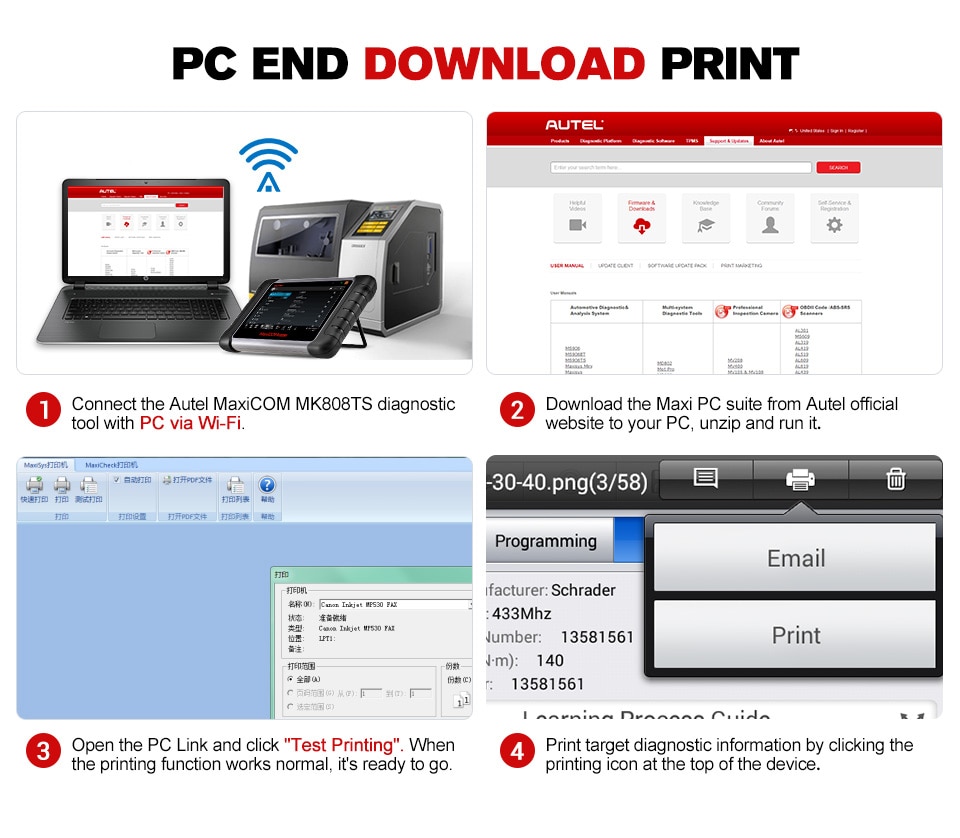 WARRANTY:
12-month warranty for any possible quality problems.
1*USB Cable (for charging) 1*USB Cable (for test) 1*MaxiVCI Mini 1*USB External Power Adapter 1*User Manual 1*Quick Reference Guide 1*Carry case 1*Magnet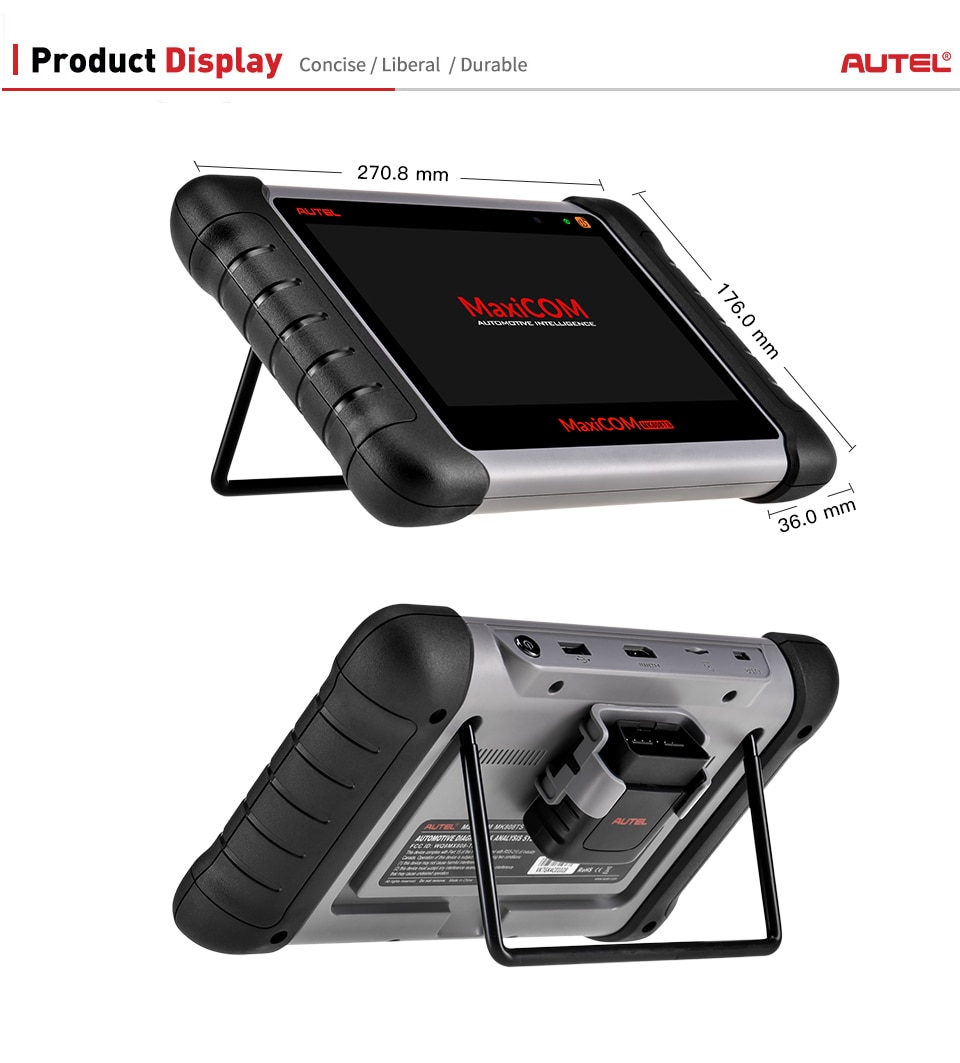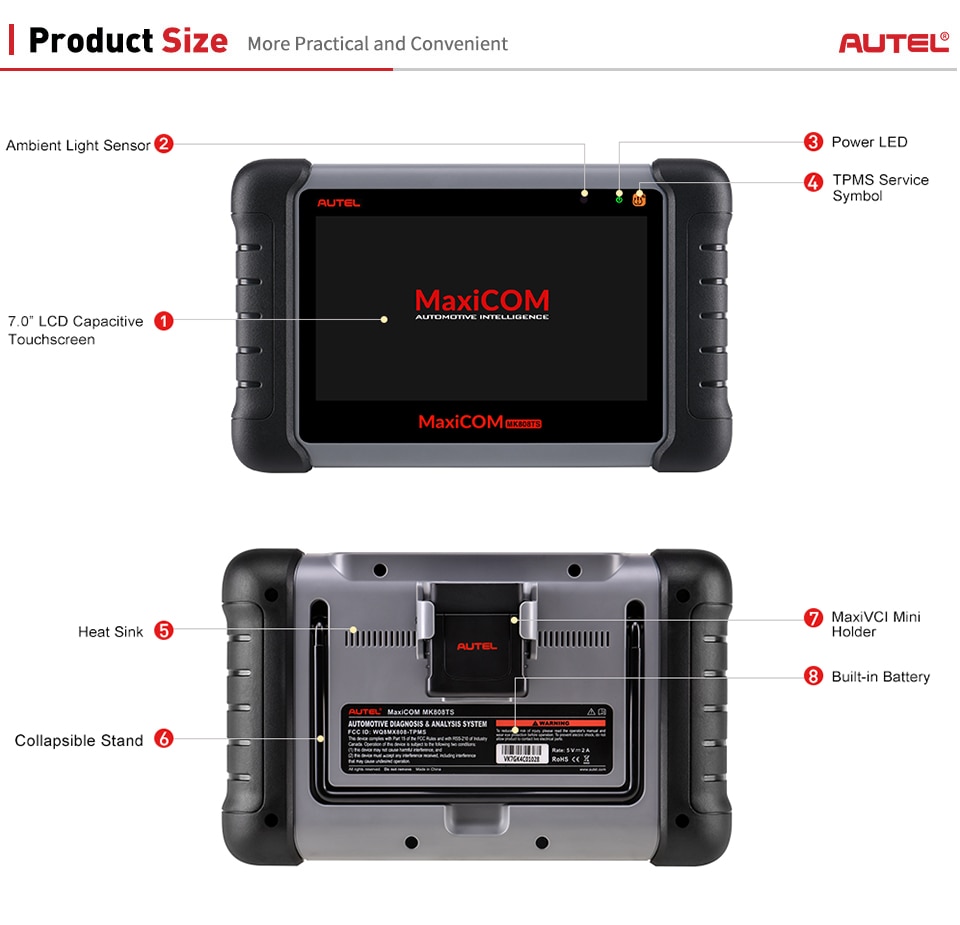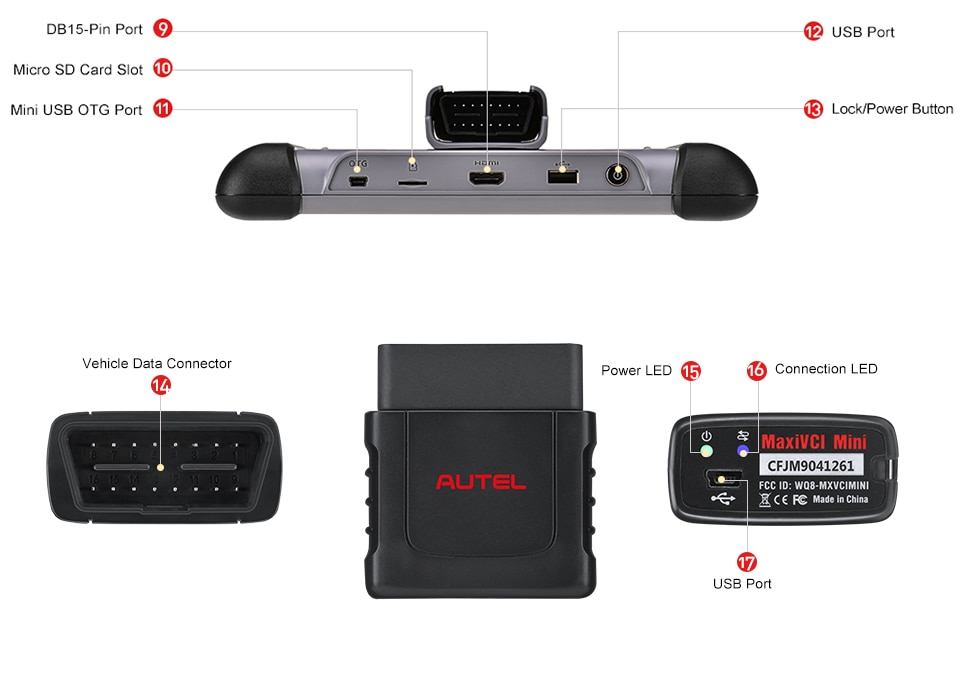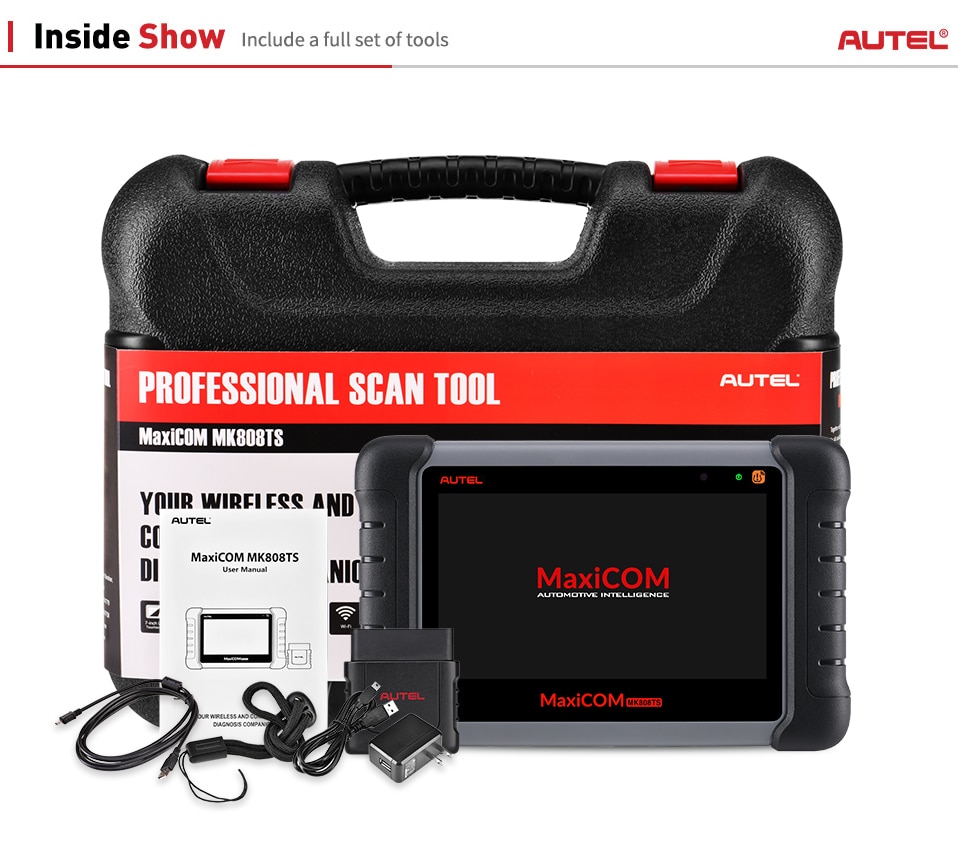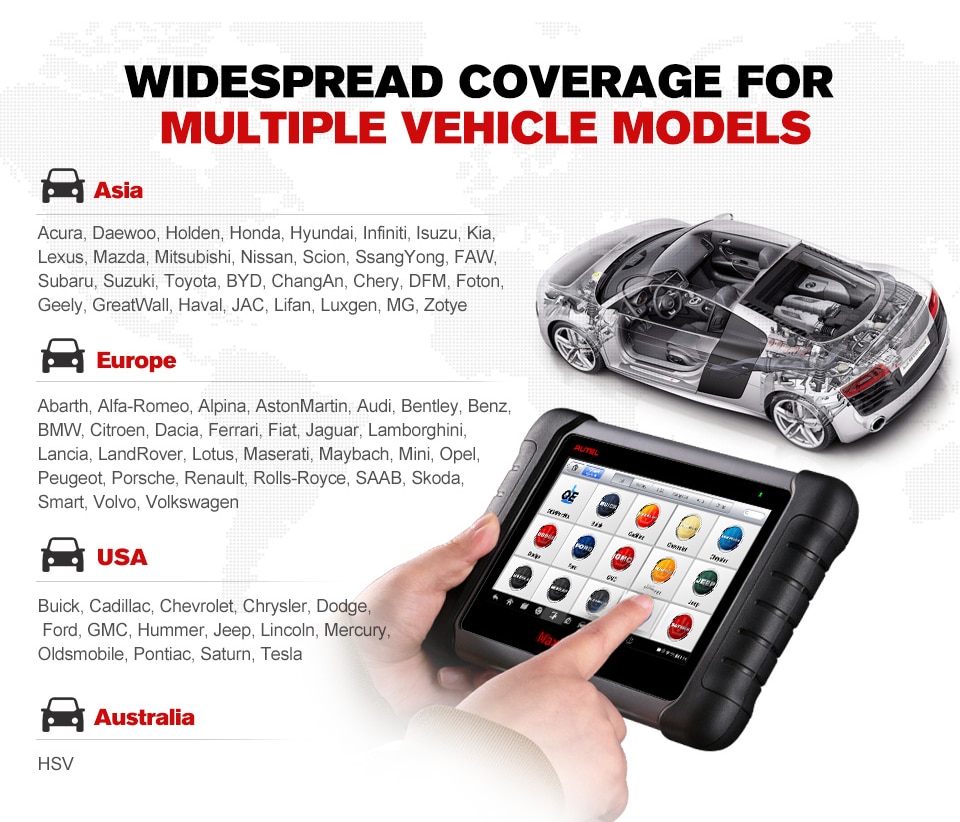 contact us for more info ..
place your order now