Autel MaxiIM IM508 Perfect Advanced IMMO & Key Programming + Scanner Tool
MaxiIM IM508:
MaxiIM IM508 is a fast, easy-to-use, and ultraportable IMMObilizer and key programming device. The Android-based touchscreen tablet features powerful quad-core processor, intuitive design and straight-forward interface. Euipped with the XP200 Key Programmer, IM508 is capable of providing extraordinary service functions for the immobilizer system. Together with the ability to quickly diagnose all modules of the majority of the makes and models on the market, IM508 provides you with superior special functions. IM508 is the perfect solution for shops and technicians who demand affordable and powerful IMMO and diagnostic services.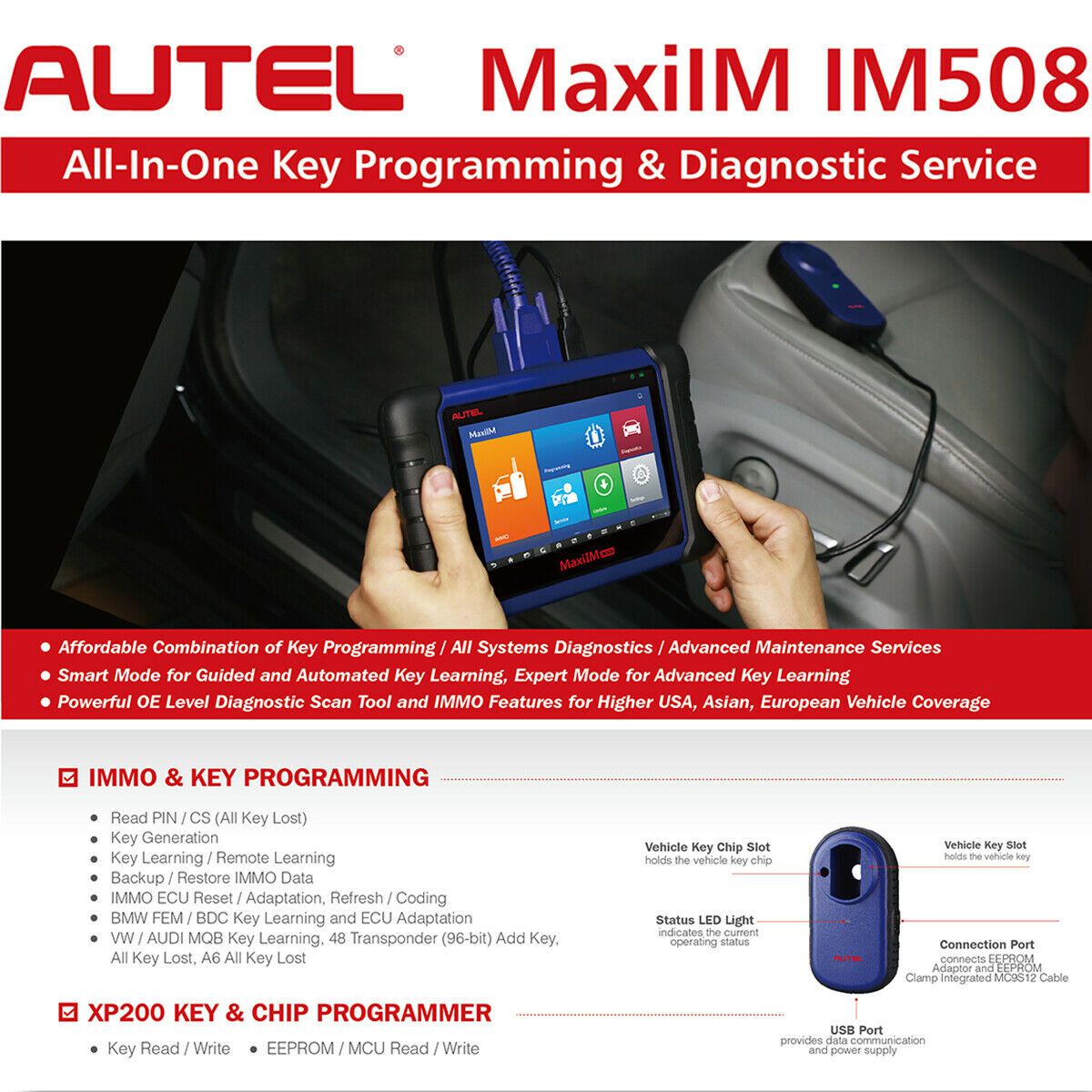 Muti-Language
MaxiIM IM508 Supports Muti-Language:English / Portuguese / Germany / Japanese / French / Spanish
Features:
Powerful Cortex-A9 processor

7Inch 1024×600 LCD capacitive touchscreen

Internal reliable 32GB Memory

Android Operating System for fast boot-up and multitasking

Powerful combination of key programming/all system diagnostics/advanced maintenance services

Smart Mode for guided and automated key learning

Expert Mode for advanced key learning

Read PIN/CS (all key lost) , key generation, key learning, remote learning

IMMO ECU reset/adaptation, refresh/coding

Transpronder read/write, EEPROM/MCU read/write

Powerful OE level diagnostics for more than 80 US, Asian and European makes and models

Advanced maintenance services including EPB, DPF, SAS, Oil reset, BMS and TPMS sensor ID relearn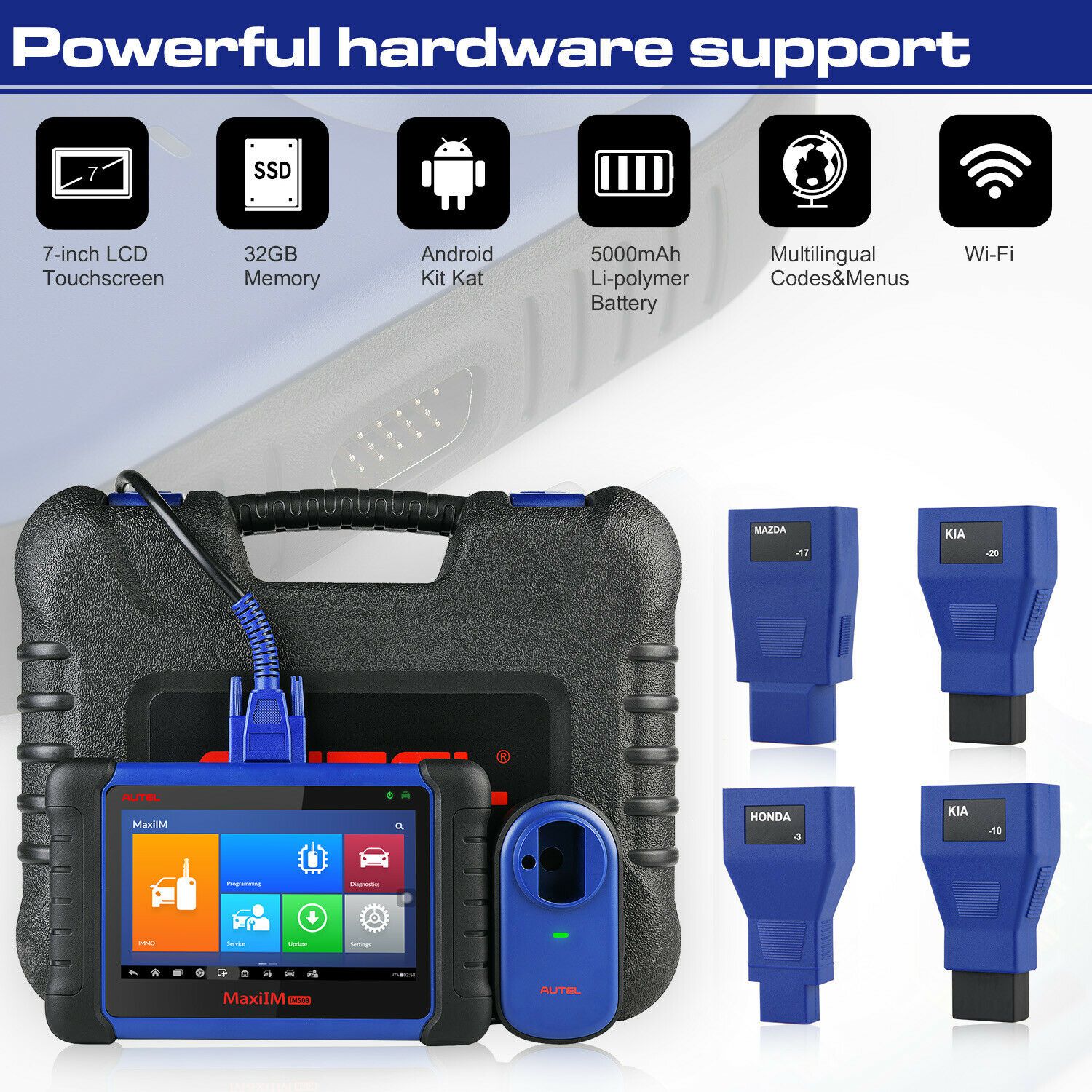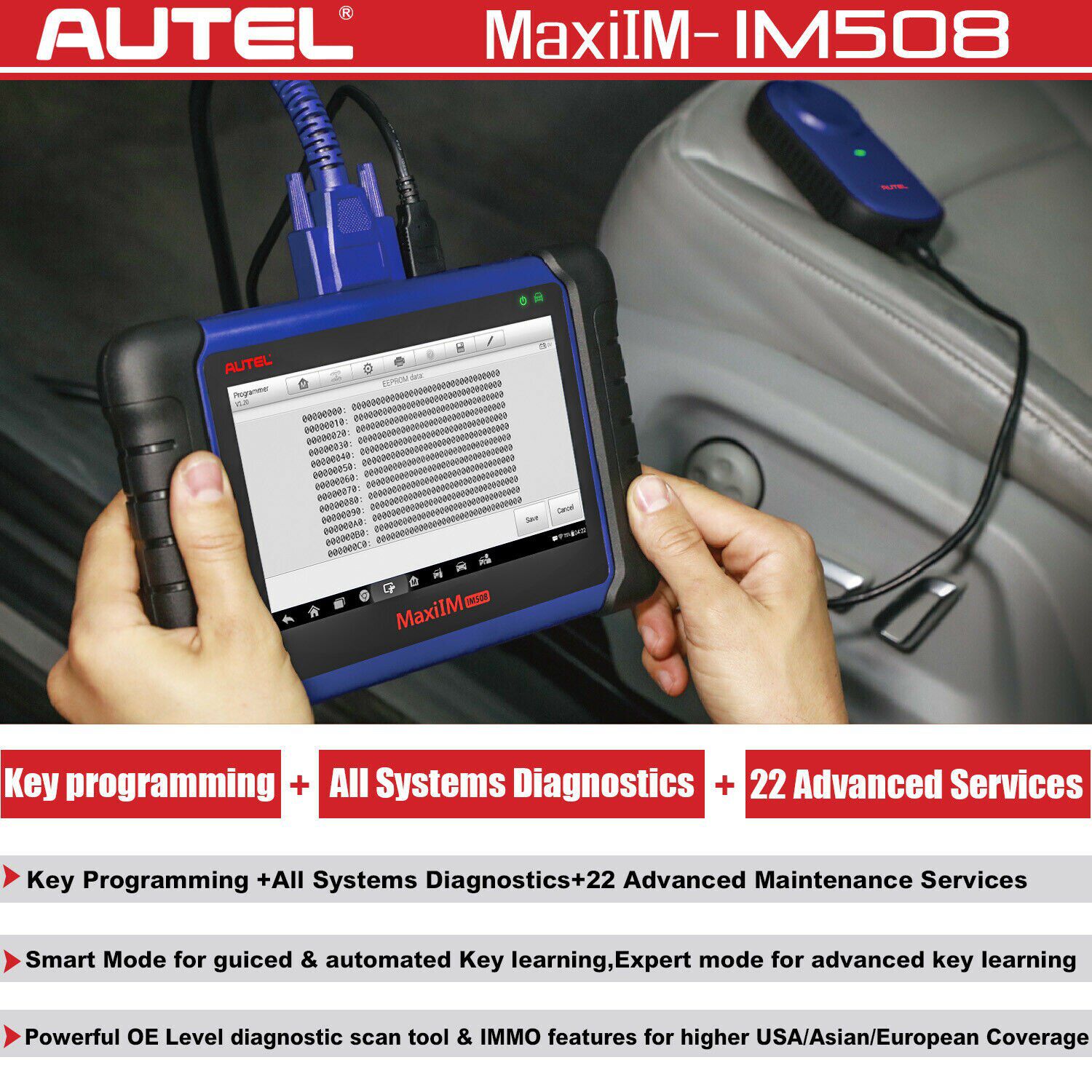 XP200:
The XP200 is specially designed to read Volkswagen vehicle key chip data, clone and generate exclusive keys, read/write on-board EEPROM data, and read/write Freescale 9S12 MCUs. By working with diagnostic tool and PC that are both loaded with programmer software, the XP200 can read/write key chip data quickly and accurately.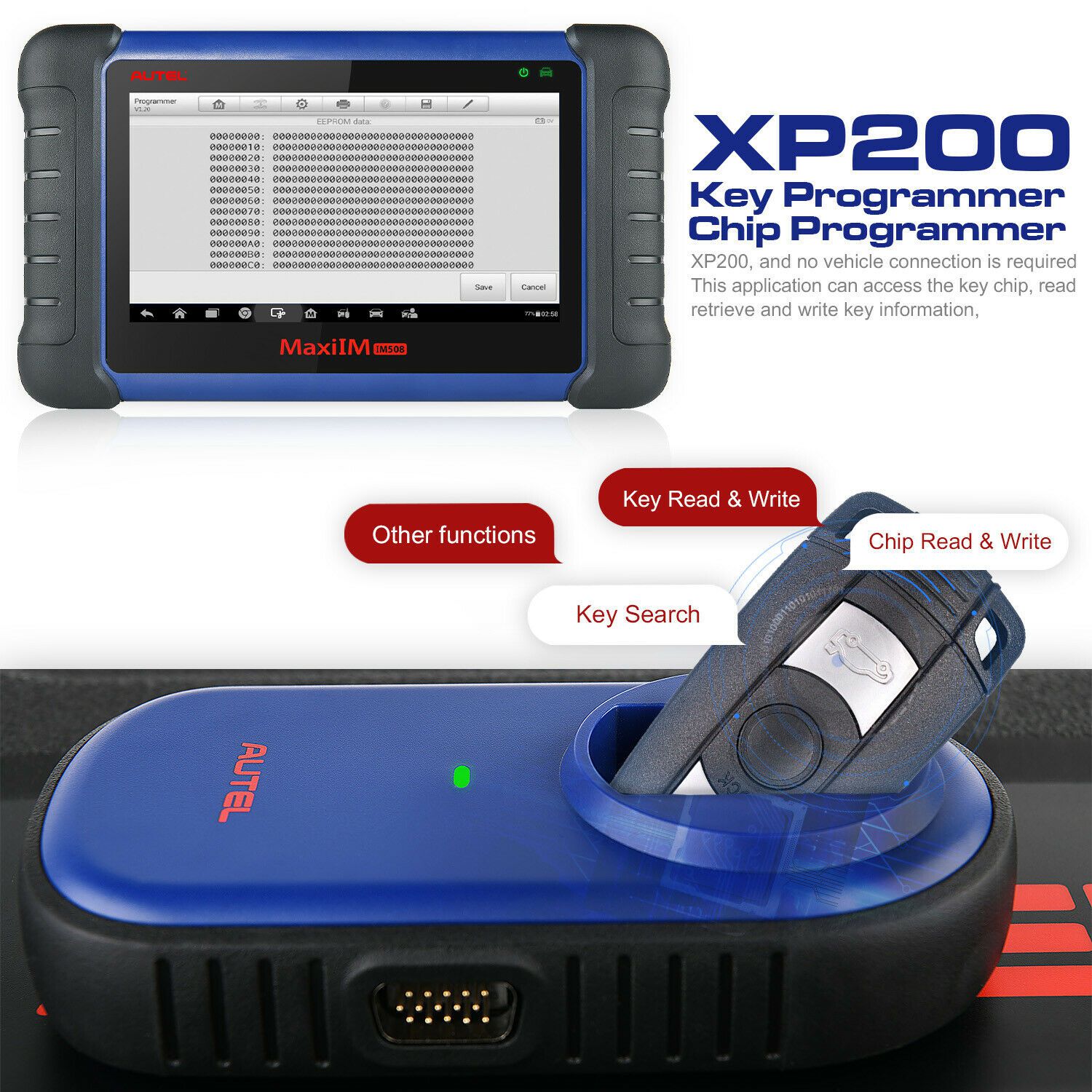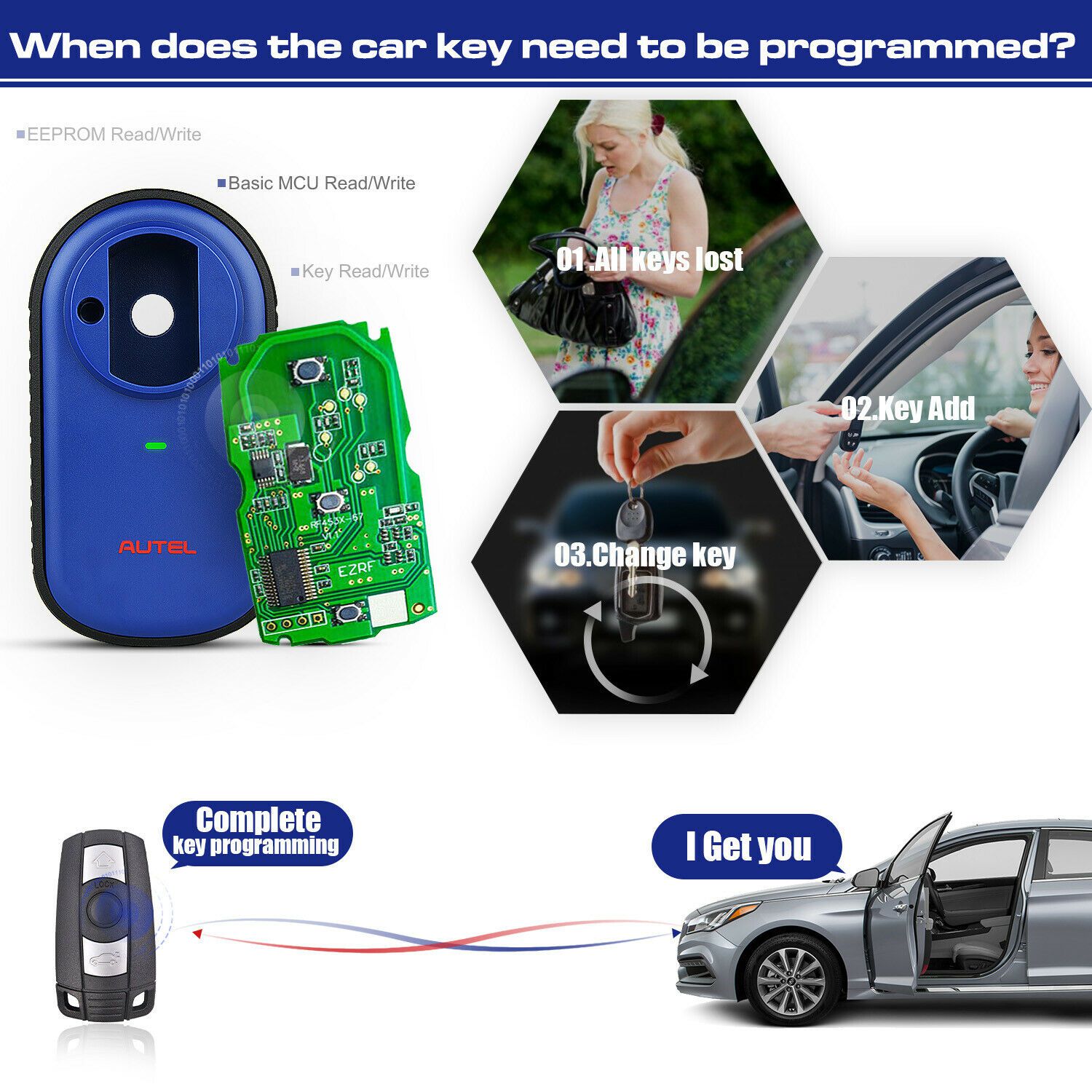 IMMO:
The IMMO application requires a data link to the IMMO electronic control system of the test vehicle for diagnosis via OBD II connection. The application retrieves vehicle IMMO information and performs IMMO related functions, including Key Learning, Remote Control Learning, Remote Control Add, etc.
The Programming application requires connection between the tablet and the XP200, and no vehicle connection is required. This application can access the key chip, read, retrieve and write key information, as well as other key related functions.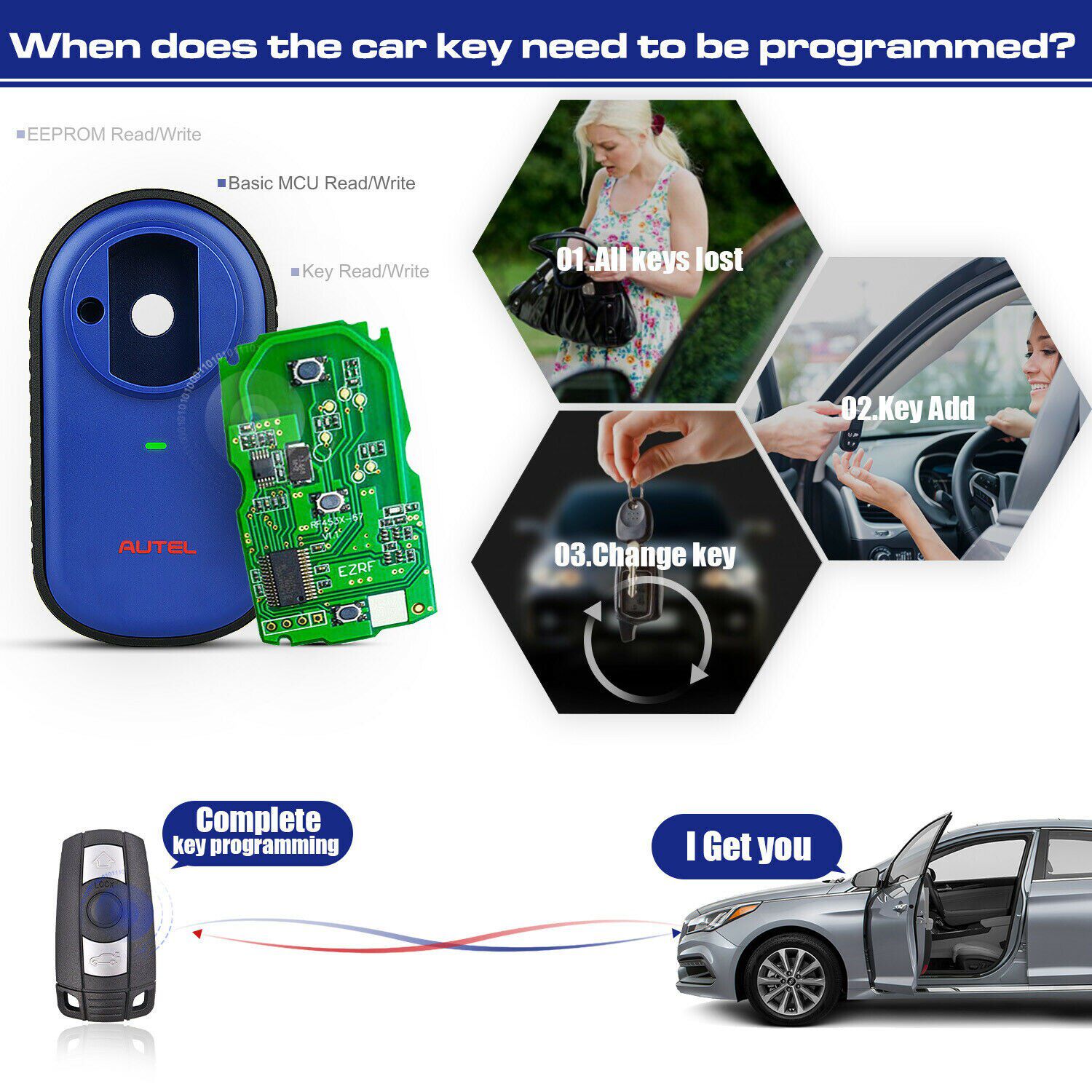 Autel MaxiIM IM508
Advanced IMMO & Key Programming:
1.Read PIN/CS (AII key lost) 2.Key Generation 3.Key Learning/Remote Learning 4.Backup/Restore IMMO Data 5.IMMO ECU Reset/Adaptation,Refresh/Coding 6.BMW FEM/BDC Key Learning and ECU Adaptation 7.VW/Audi MQB Key Learning,48 Transponder(96-bit)Add Key ,All Key Lost,A6 AII Key lost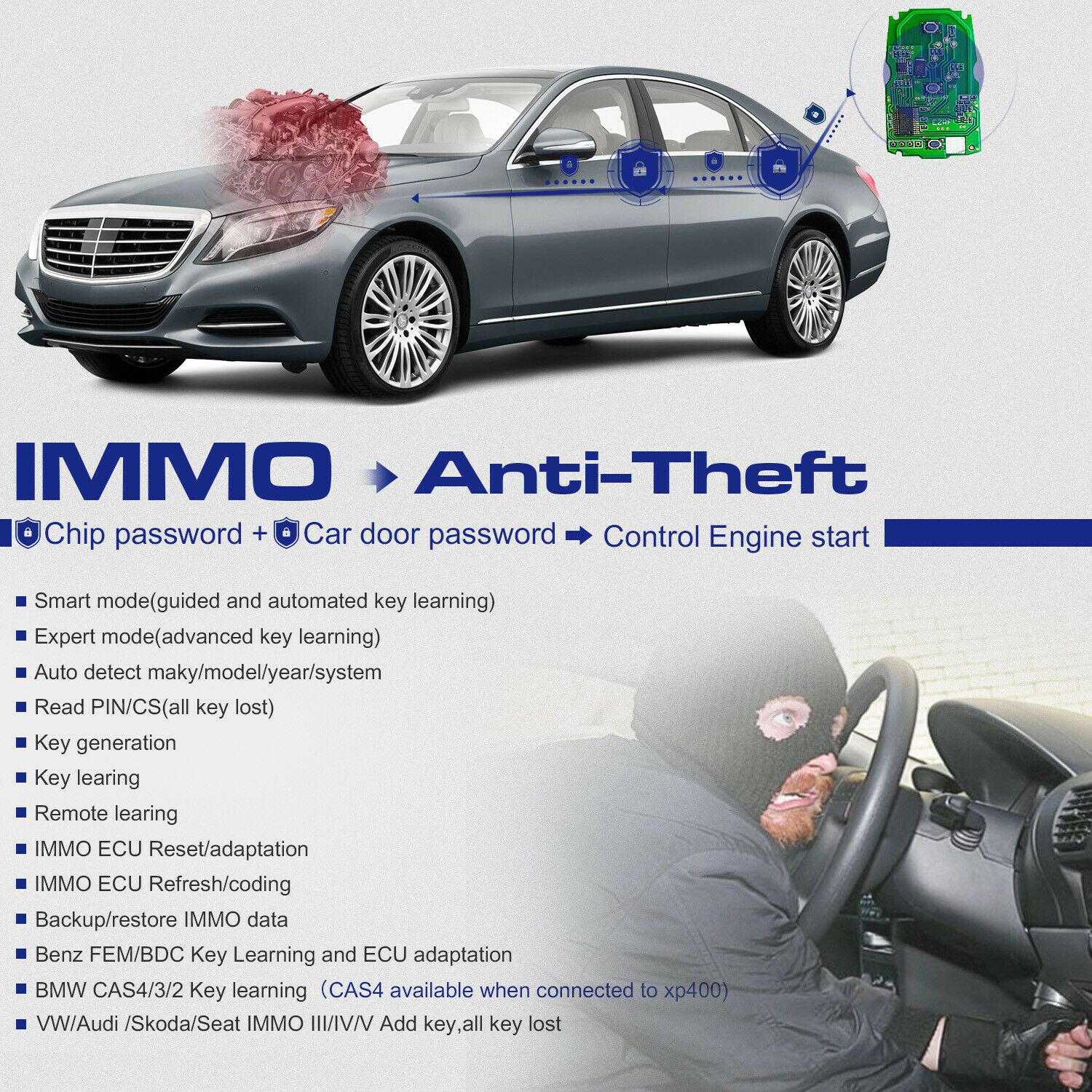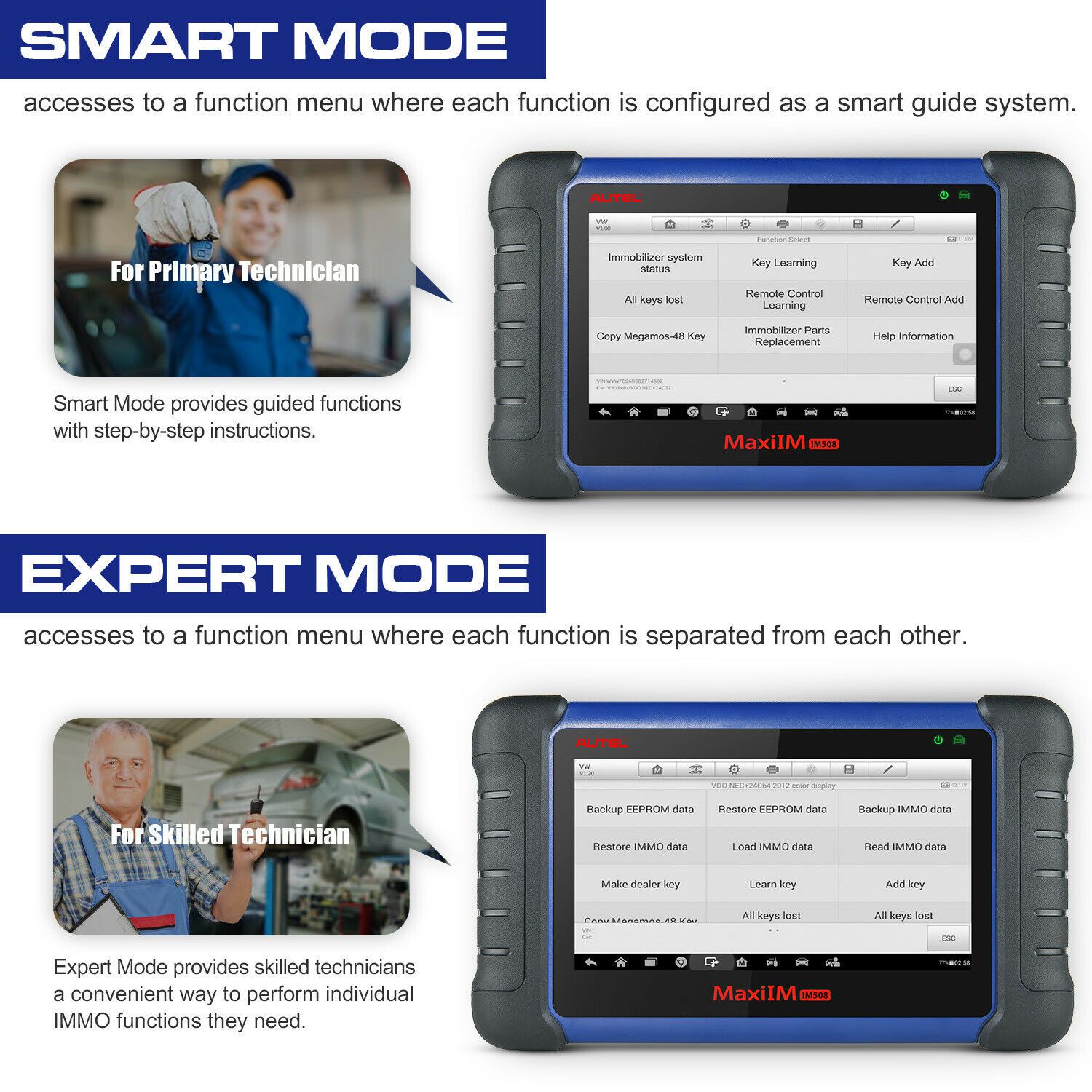 The Diagnostics application can retrieve ECU information, read & erase DTCs, and view live data. The Diagnostics application can access the electronic control unit (ECU) for various vehicle control systems, including engine, transmission, antilock brake system (ABS), airbag system (SRS)……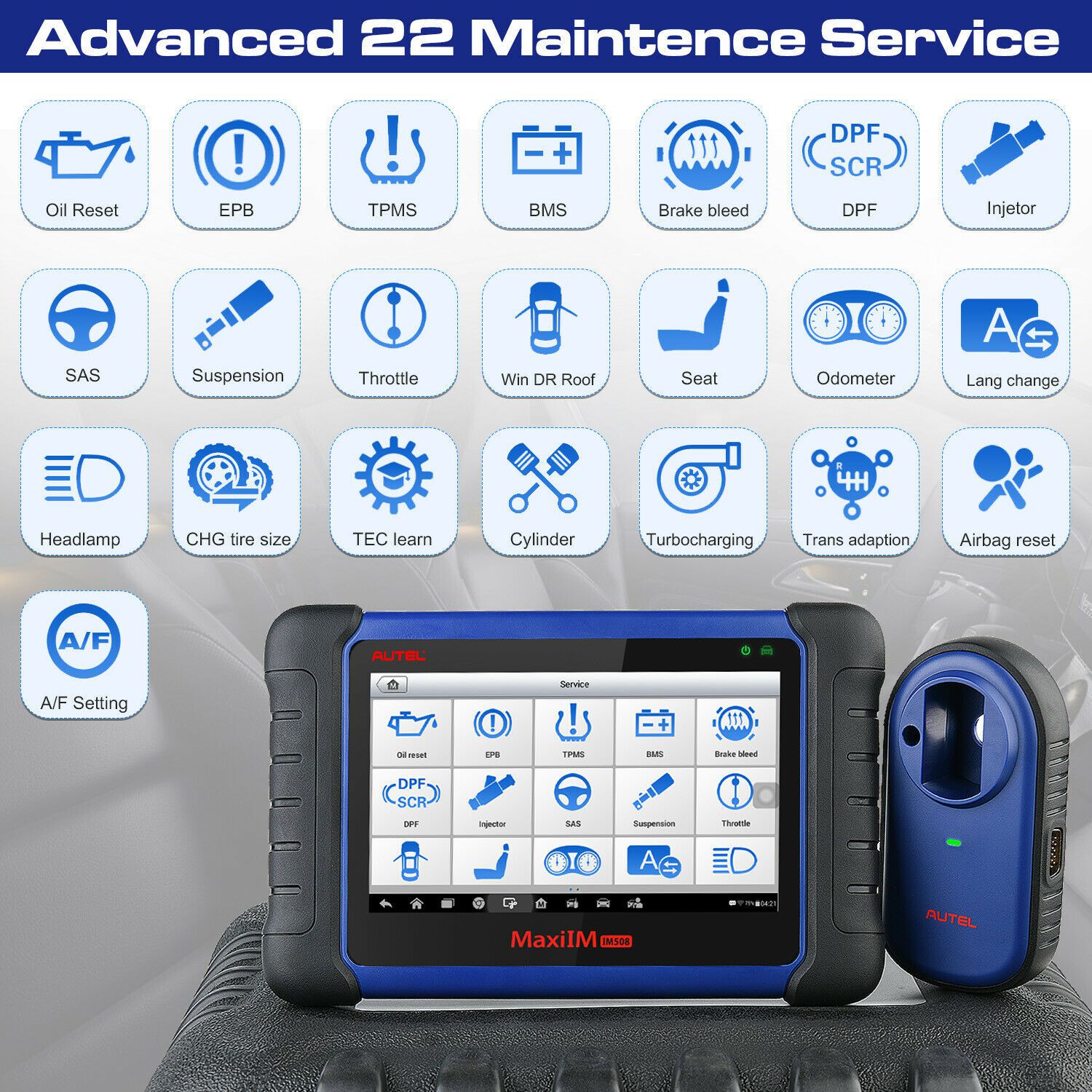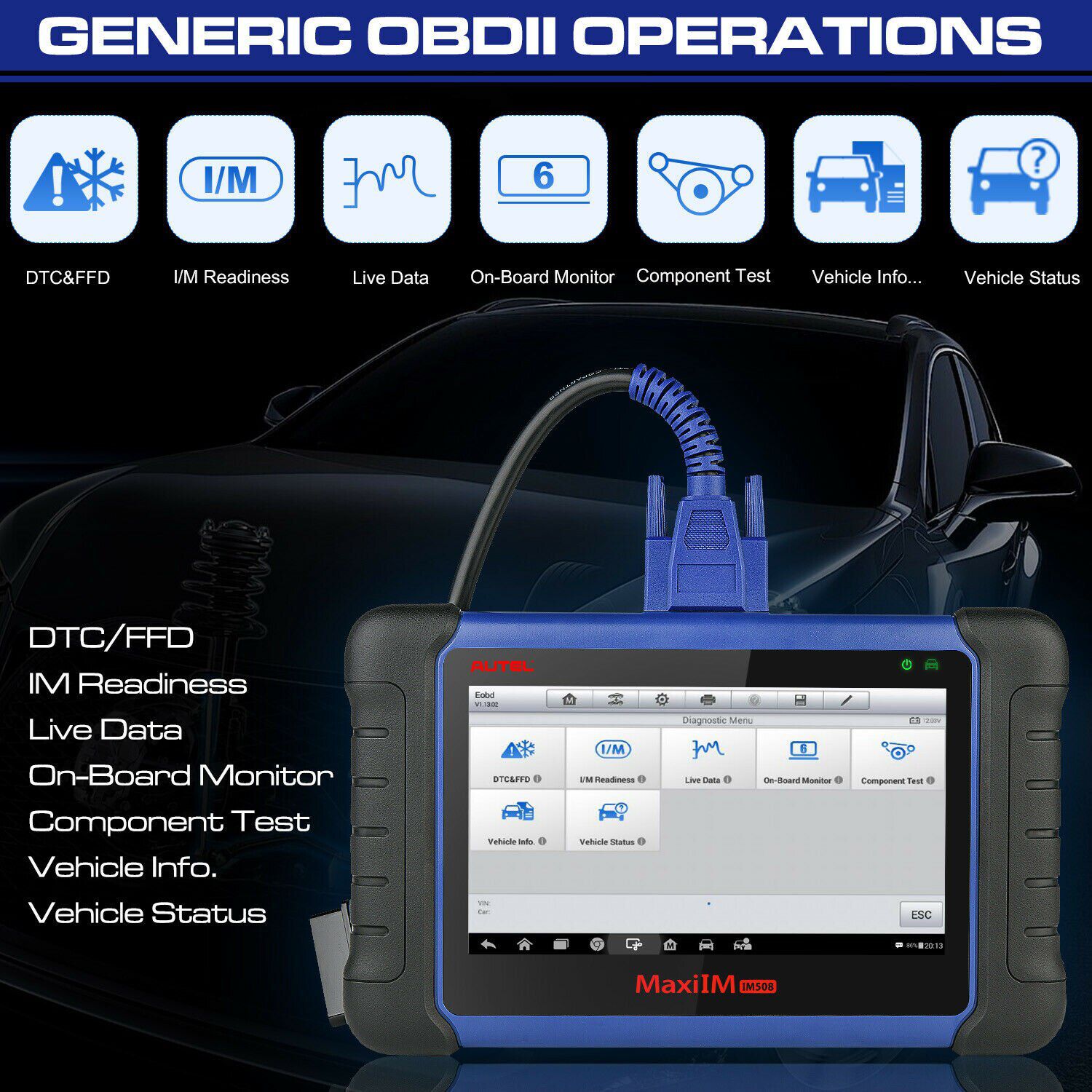 Specifications:
Operating System:AndroidTM 4.4.4

Processor:Cortex-A9 processor (1.6 GHz)

Memory:32GB

Display:7-inch LCD capacitive touchscreen with 1024×600 resolution

Connectivity:Mini USB 2.0,USB 2.0,Wi-Fi,Micro SD card (supports up to 32GB)

Sensors:Ambient light sensor for brightness auto changing

Audio Input / Output:Input: N/A,Output: buzzer

Power and Battery:3.7 V/5000 mAh lithium-polymer battery, Charges via 5 VDC power supply

Tested Battery Life:Around 4.5 hours of continuous use

Battery Charging Input:5 V/1.5 A

Power Consumption:500 mA (LCD on with default brightness, Wi-Fi on) @3.7 V

Operating Temp:0 to 50°C (32 to 122°F)

Storage Temp:-20 to 60°C (-4 to 140°F)

Operating Humidity:5% – 95% non-condensing

Net Weight:788 g (2.42 lb.)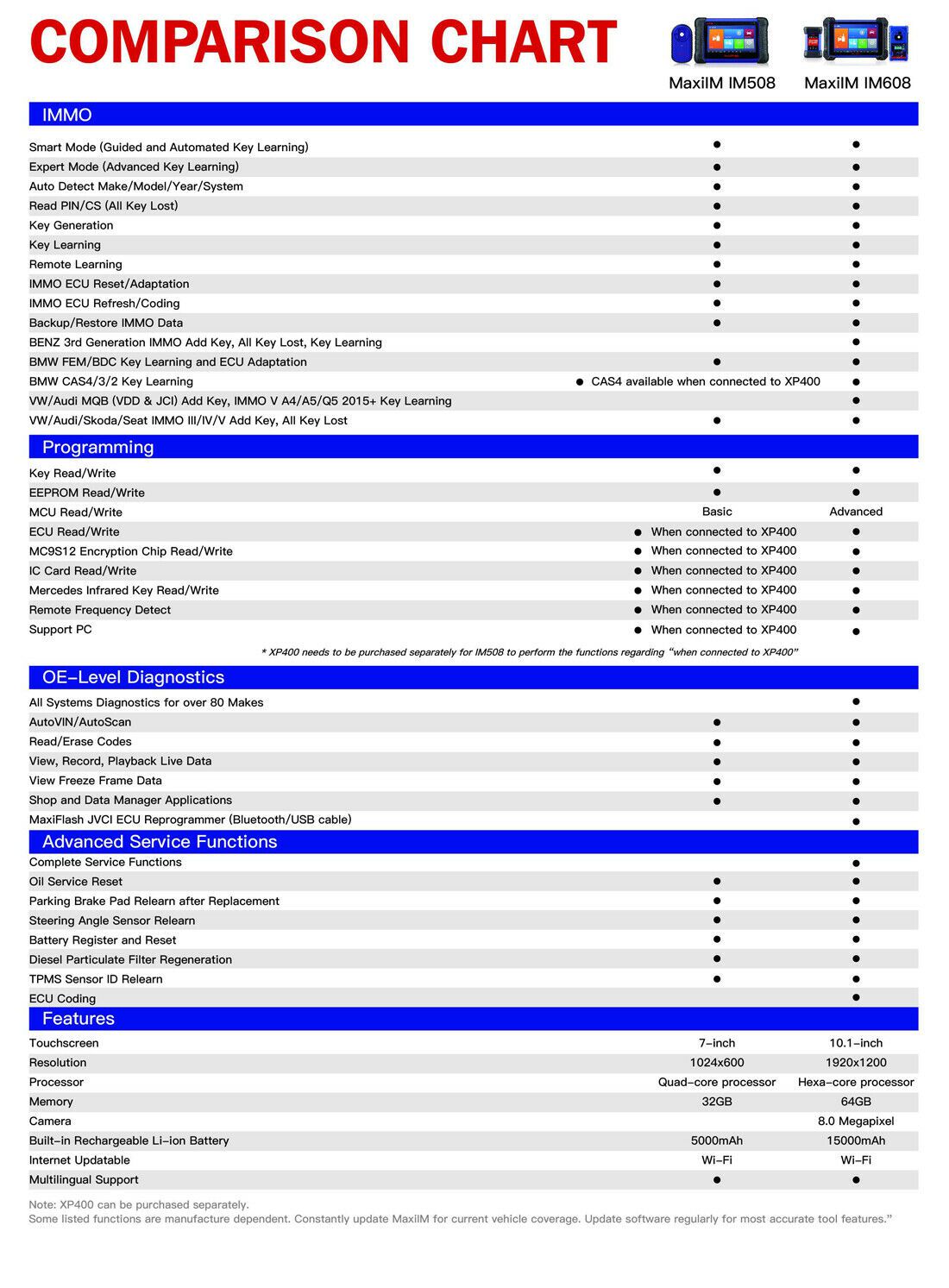 Accessories:
1XAAC001 – MED17 Cable

1XKIA-20 Adaptor

1XMazda-17 Adaptor

1XMaxiIM IM508 Tablet

1XCarrying Case

1XQuick guide

1XHonda-3 Adaptor

1XKIA-10 Adaptor

1XXP200 Key Programmer

1XUSB External Power Adapter

1XMain cable

1XMini USB Cable