launch x431 HD3 WIFI/Bluetooth Heavy Duty Truck Diagnostic Tool
x431 Heavy-duty Truck HDIII Module is a new generation heavy-duty truck fault diagnostic tool developed by launch Tech regarding internet application on the basis of Android OS. It communicates with X-431 PRO3/X-431PAD II throuth Bluetooth to achieve fault diagnosis for various car models and full systems. Advantages include wide car model coverage, powerful test function, more special functions and accurate test data, etc.Launch X431 V+ HD3 is a modified version of the multi-brand scanner Launch X-431 Pro which, in its new edition, received a more powerful tablet and a diagnostic function for heavy duty vehicles. The device includes all the advantages of the Pro series and is presented with advanced diagnostic algorithms that allow you to quickly and deeply test the car. The complete set HD – is intended for trucks diagnostic.The HD package is a set of Launch x431 the diagnostic module of trucks launch HD Box 3.0, it turns out cheaper than buying everything separately.
Note : This item only support 24V Truck ,does not support 12V car.
Launch X431 V+ HDIII Heavy Duty Diagnostic Tool Features:
1. Full comprehensive HD truck diagnostic software functions
2. 13 Special Functions: DPF Regeneration, Injector Coding, Reset Service(MIL), Maintenance Confirmation, Injection Quantity Adjustment, Particulate Filter Replacement Reset, Reset Pressure Differential Sensor, Reset Pressure Limiting Valve, Bleeding The Adblue Circuit, VGT Electronic Actuator Installation And Calibration, Trip Reset, Parked SCR Efficiency Test, DPF Ash Accumulator Reset
3. Calibration: Idle Speed Adjustment,Speed Limit, Cruise Control, Idle-Stop System, PTO, Coolant Level Switch, Exhaust Brake Valve, Intake Air Preheating, Vehicle Speed Controller, Air Conditioner, Oil Pressure Sensor, Electronic Fan, ABS, Automatic Transmission
4. Support USB, Bluetooth and WIFI connection
5. Strong stability and high speed
6. One Year Free Update
Launch X431 V+ HDIII Functions:
Identification of control units

Adaptation of control units

Reset service intervals

Reading vehicle data streams

Display of current system parameters

Check actuators

Reading and erasing vehicle fault codes
How to Activate X431 HD3 & Download Software:
If you had a diagnostic tool of 12V passenger car configuration and intend to extend the diagnostics of commercial vehicles, follow the steps described below to activate the HD III:
Note: Please make sure that the diagnostic tool is properly connected to the Internet before proceeding this step.
1. Launch the application, and log in the system using the existing user account of
Passenger Vehicle Configuration, and then tap "Personal Center (or )" -> "Activate VCI (or "Activate Connector )".
2. Input the Product S/N and Activation Code, which can be found in the supplied Password Envelope, then tap "Activate" to activate the HD III.
3. Tap "Update" to enter update center, tap "Update" to download and install the diagnostic software of Commercial vehicles.
4. After the software download is complete, a new "Heavy-duty" tab will appear on the Diagnostic main menu screen.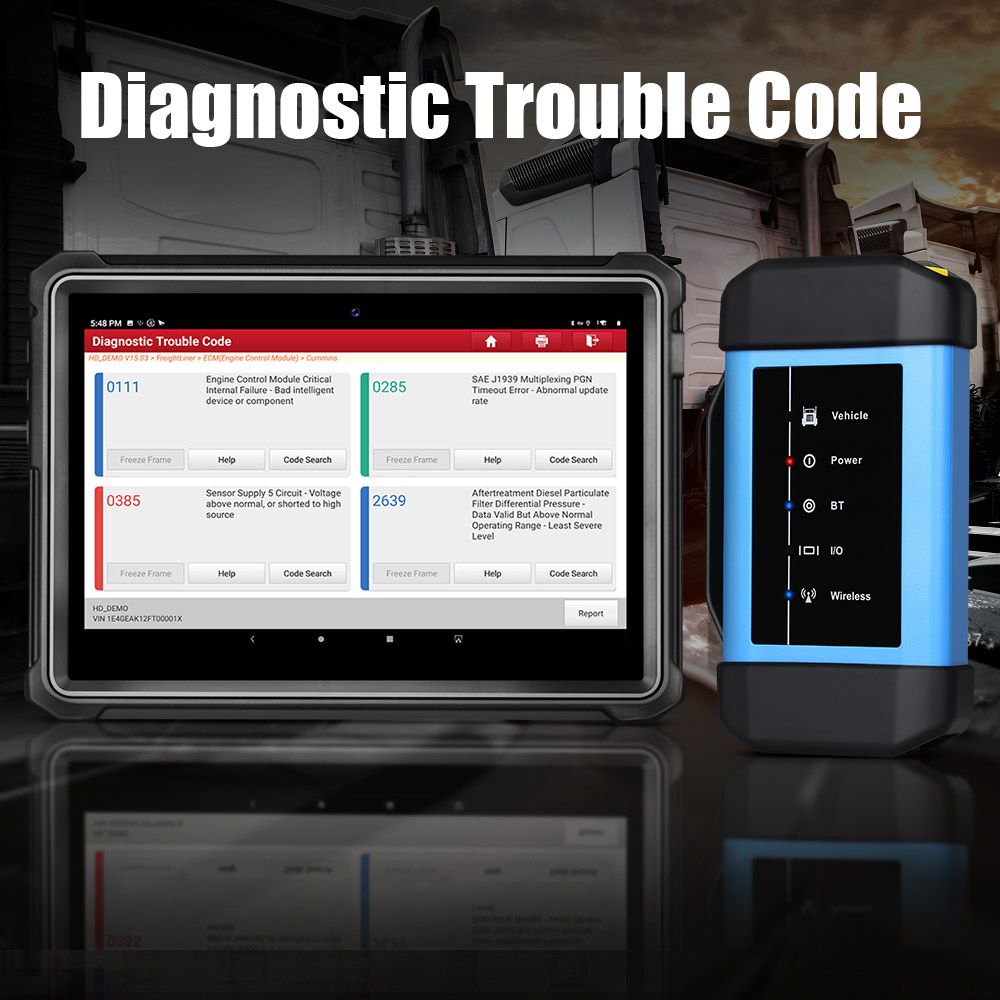 Launch X431 V+ HD3 Software list:
1 X431, USA FORD Diagnostic Software diesel
2 After the X431, heavy card processing system diagnostics software
3 ASTRA diagnostic software
4 Benz heavyduty diagnostic software
5 Bosch diesel diagnostic software
6 BREMACH diagnostic software
7 China heavyduty diagnostic Software
8 Cummins heavyduty diagnostic software
9 DAF diagnostic software
10 ERF diagnostic software
11 FAW Liberation diagnostic software
12 Foton Auman diagnostic software
13 FUSO diagnostic software
14 Hino diagnostic software
15 Hyundai heavyduty diagnostic software
16 Isuzu heavyduty diagnostic software
17 Iveco heavyduty diagnostic software
18 JAC heavyduty diagnostic software
19 Mack heavyduty diagnostic software
20 MAN diagnostic software
21 OBD heavyduty diagnostic software
22 SCANIA diagnostic software
23 Shangchai diagnostic software
24 Volvo heavyduty diagnostic software
25 WP diesel diagnostic software
26 X431, Airbus diagnostic software
27 X431, ALLISON transmission box diagnosis software
28 X431, Ashok Rejlander the diagnostic software
29 X431, Caterpillar heavy vehicles Diagnostic Software
30 X431, Chai heavy vehicle diagnostic software
31 X431, Chaoyang Diesel diagnostic software
32 X431, construction machinery diagnostic software
33 X431, CREDO heavy vehicle diagnostic software
34 X431, DETROIT engine diagnostic software
35 X431, Dongfeng commercial vehicle diagnostic software
36 X-431, Dongfeng Yufeng diagnostic software
37 X431, Freightliner heavy-duty truck diagnostic software
38 X431, full diesel diagnosis software
39 X431, HD ABS system diagnostic software
40 X431, hd_goldendragon diagnostic software
41 X431, hd_international vehicle diagnostic software
42 X431, HD_TATA diagnostic software
43 X431, hd_western_star vehicle diagnostic software
44 X431, heavy truck presentation software
45 X431, heavy vehicles Jiangling diagnostic software
46 X431, IRISBUS heavy vehicle diagnostic software
47 X431, IRIZAR heavy vehicle diagnostic software
48 X431, NEOPLAN heavy vehicle diagnostic software
49 X431, Renault diagnostic software for heavy vehicles
50 X431, SETRA heavy vehicle diagnostic software
51 X431, SITCAR heavy vehicle diagnostic software
52 X431, Stannic bavin diagnostic software
53 X431, Sterling heavy vehicle diagnostic software
54 X431, Sunlong bus ( SUNLONG ) diagnostic software
55 X431, sunwin bus ( SUNWIN ) diagnostic software
56 X431, UD Trucks 2F Nissan Diesel Diagnostic Software
57 X431, Yang Chai engine diagnostic software
58 X431, Zhongtong bus ( ZHONGTONG BUS ) diagnostic software
59 X431,BONLUCK diagnostic software
60 X431,HD_KENWORTH deagnostic software
61 Yuchai diagnostic software
Launch X431 HD-III VCI Module Parameters:
Working voltage: DC 9 ~36V
Power consumption: ≤ 2W
Communication: Via wireless BT/WLAN or data cable
Working temperature: -10 to 55℃
WIFI module:
HLK-RM08K
Frequency range: 2412-2472MHz
Transmit power: 19.29dBm
Wireless BT module:
YG-218M-A2
Frequency range: 2402-2480MHz
Transmit power: 16.62dBm
Launch X431 V+ HD3 Package includes:
1pc x X-431 V+(V3.0) host
1pc x PAD4HD- Type II OBD-9 X431 diagnostic connector
1pc x X-431 HD_III_VCI diagnostic kit Business Edition (RM08)
1pc x X431 PAD IV HD-BENZ-14 / Mercedes 14PIN diagnostic connector
1pc x X431 PAD IV HD-CAT-9 / Carter 9PIN diagnostic connector
1pc x X431 PAD IV HD-HYUNDAI-16 / Modern truck 16PIN diagnostic connector
1pc x X431 PAD IV HD-IVECO-30 / In Victoria Ho 30PIN diagnostic connector
1pc x X431 PAD IV HD-IVECO-38 / In Victoria Ho 38PIN diagnostic connector
1pc x X431 PAD IV HD-MAN-12 / Man 12PIN diagnostic connector
1pc x X431 PAD IV HD-MAN-37 / Man 37PIN diagnostic connector
1pc x X431 PAD IV HD-MITSUBISHI-12 + 16 / Fuso 12 + 16PIN diagnostic connector
1pc x X431 PAD IV HD-OBD-16 diagnostic connector
1pc x X431 PAD IV HD-OBD-6 diagnostic connector
1pc x X431 PAD IV HD-RENAULT-12 / Renault 12PIN diagnostic connector
1pc x X431 PAD IV HD-VOLVO-8 / Volvo 8PIN diagnostic connector
1pc x Heavy truck diagnostic X431 PAD4HD mainline
1pc x LIGHTER
1pc x CLIPPER
1pc x Adapter, 5V/2A, American Standard (Lenovo plate supporting)
1pc x X431 PIN envelope
1pc x X-431 V+ HD3 English quick start
1pc x X431, PRO3S+, B, USB, Micro, USB
1pc x Clipper fuse 5*20mm
1pc x Lighter fuse 6*30mm
1pc x X-431 Power supply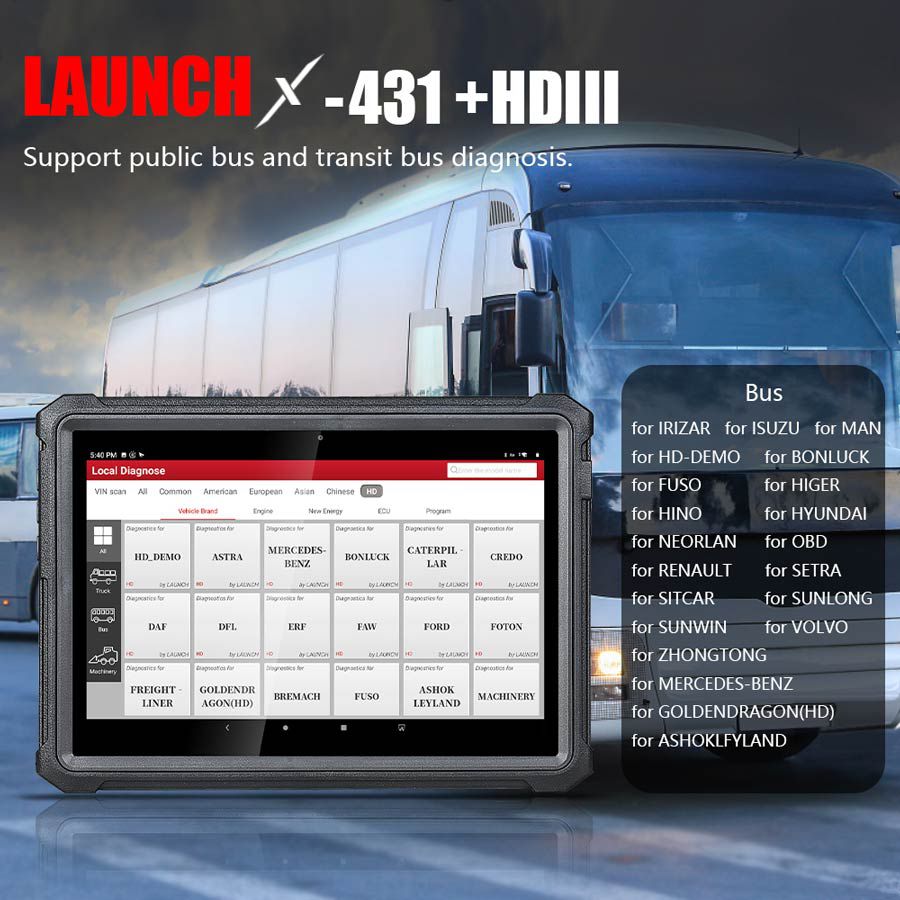 contact us for more info…