LAUNCH X431 New Thinktool Pro New OBD2 Scanner
THINKTOOL Prois a new generation modular intelligent diagnostic equipment based on Android 

10system

developed by

THINKCAR.Featured

with our unique modular design,

THINKTOOL

Pro can be widely applied various scenarios.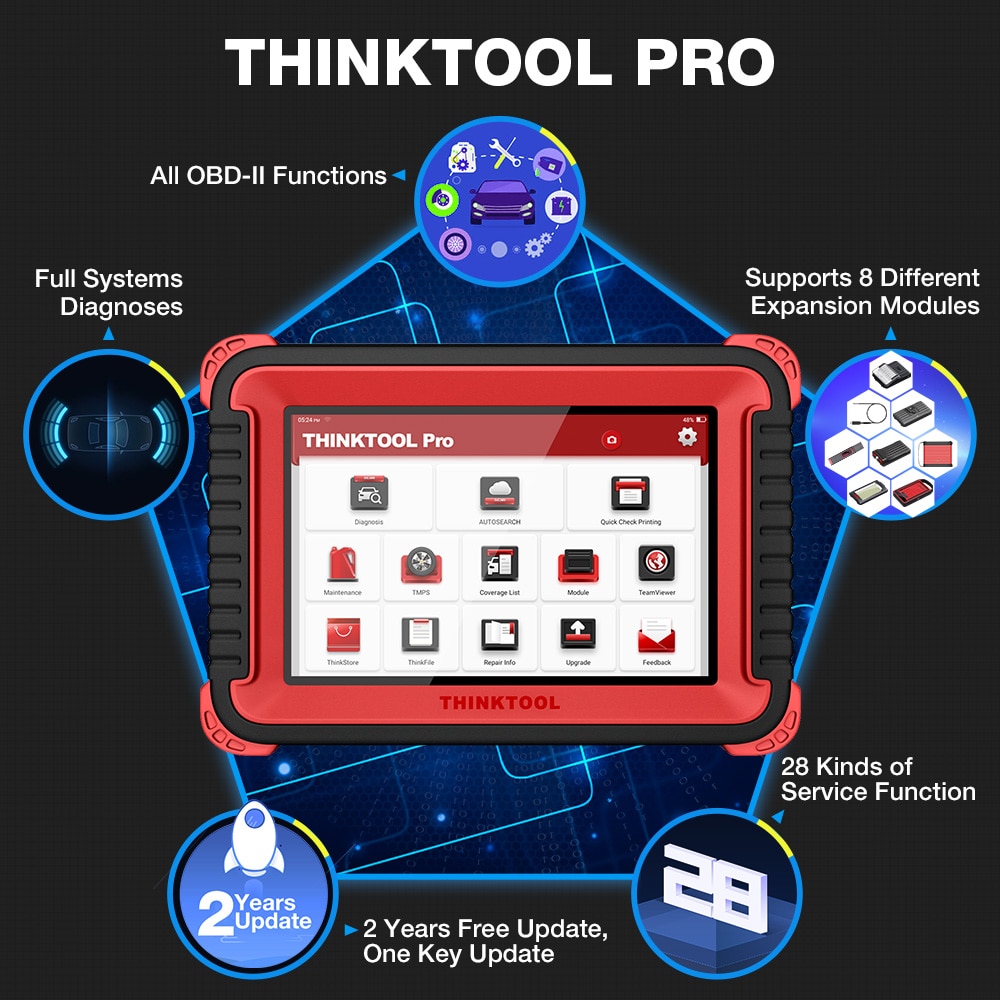 THINKCAR THINKTOOL pro Main Function:
1.The main unit and diagnostic connector support Bluetooth and wired communication. Wired communication is superior to Bluetooth connection in terms of transmission rate and anti-interference.
Also wired connection is recommended for online programming function.
2.Supports powerful intelligent VIN recognition technology, which is convenient, fast and efficient.
3.Quick Check Printing: Automatic identification of Vehicle Information, Auto Check and Report Printing
4.Modular expansion: Support 8 optional modules: printer, work light, videoscope, battery tester, scope box, thermal imager, moudledock, wireless TPMS tool(note: you can buy those model on ThinkStore)
5.It can detect faults in the electronic control systems of most high-, medium-, and low-end vehicles in Asia, Europe, the United States and China. Powerful diagnostic functions include reading fault codes, clearing fault codes, reading data streams, action tests, and special functions.
6.Maintenance function:matching, coding, programming of most vehicles' programable modules, and most commonly used maintenance and reset functions: Oil Reset, Elec. Throttle Adaption, IMMO Service, Injector Coding, Break-pad Reset, Steering Angle Reset, ABS Bleeding, AFS Reset, Battery Matching, A/T Learning, DPF Regeneration, EGR Adaption, TPMS Reset, Sunroof Initialization, Suspension Matching, Gear Learning, Airbag Reset, ODO Meter Reset, AdBlue Reset, A/F Reset, Coolant Bleeding, Language Change, NOx Sensor Reset, Seat Calibration, Stop/Start Reset, Transport Mode, Tyre Reset, Windows Calibration.
7.Online one click to update diagnosis software, client and firmware.
8.Feedback: Any abnormal of software or function during the diagnosis, just feedback to us, our professional technician will track and deal with it in time.
TPMS function:
with wireless TPMS tool (optional), TPMS activation, programming and learning functions can be supported.
(note: you can buy those model on ThinkStore)
To diagnose car comprehensively, Thinktool Pro scanner can read DTCs and data streams, perform active test, Coding for ALL systems.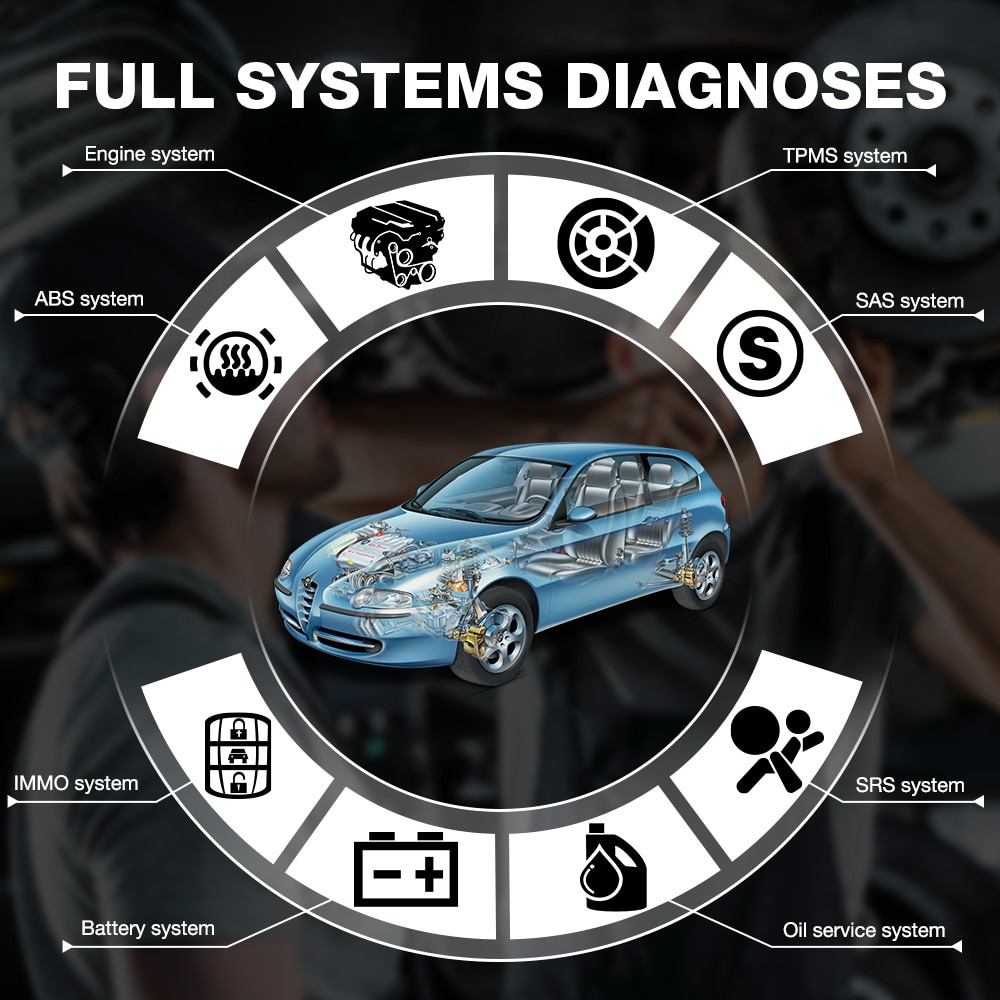 For instance:
engines/Auto Transmission/Airbags/IMMObilizer/Key Coding/ABS/Cruise Control/Instruments/ Self Leveling Suspension systems/Seats/Doors/Gateway/Steering Angle/Air Suspension/Body Systems/Electronic Power Steering & Motor Assisted/Power Steering/Tyre Pressure/Rain Sensors/4WD System/Stabilizer/Intelligent Parking Assist/Door Motors/Audio Systems/Air Conditioning/Tiptronic/Anti Theft/Soft Top/Headlamp Leveling/Central Locking/Automatic Clutch/ DPF Reset/Electric Windows/Plip Programming/Heated Rear Window/Xenon Headlights/Wash Wipe/Fuel Burning Heater/Transfer Box/Seat Memory/Oil Life Service Reset/Sliding Doors/Electronic Throttle/Navigation System/Rollover Sensor/Cruise Control/ Multi Functios.
This function is used to test whether the execution components in the electronic control system can work
The Coding function is used to re-flash the vehicle control modules, it allows you to reprogram adaptive data for certain components after making repairs or replacements.
Combine: Displayed in graph merge status for data comparison.
Displayed the parameters in values and shown in list format.
Customize the data stream option to be viewed. Tap the button, a pull-down list of the data stream items appears on the screen. Select the desired items (max12 items), and then screen will display the waveforms corresponding to these items immediately. If need to remove any items, just deselect them.
If you encounter an unresolved problem or diagnostic software bug during diagnosis, you can revert the most recent 20 test records to Thinkcar Team. When we receive your feedback, we will analyze and troubleshoot it in a timely manner, to improve the quality of our products and user experience.
Quick print diagnostic reports:
Thermal printer, work with the main unit, also can work with module dock. Quick print diagnostic reports anytime and anywhere.
English, France, Germany,Spanish,Italy, Portugal, Japan ,Russia,Chinese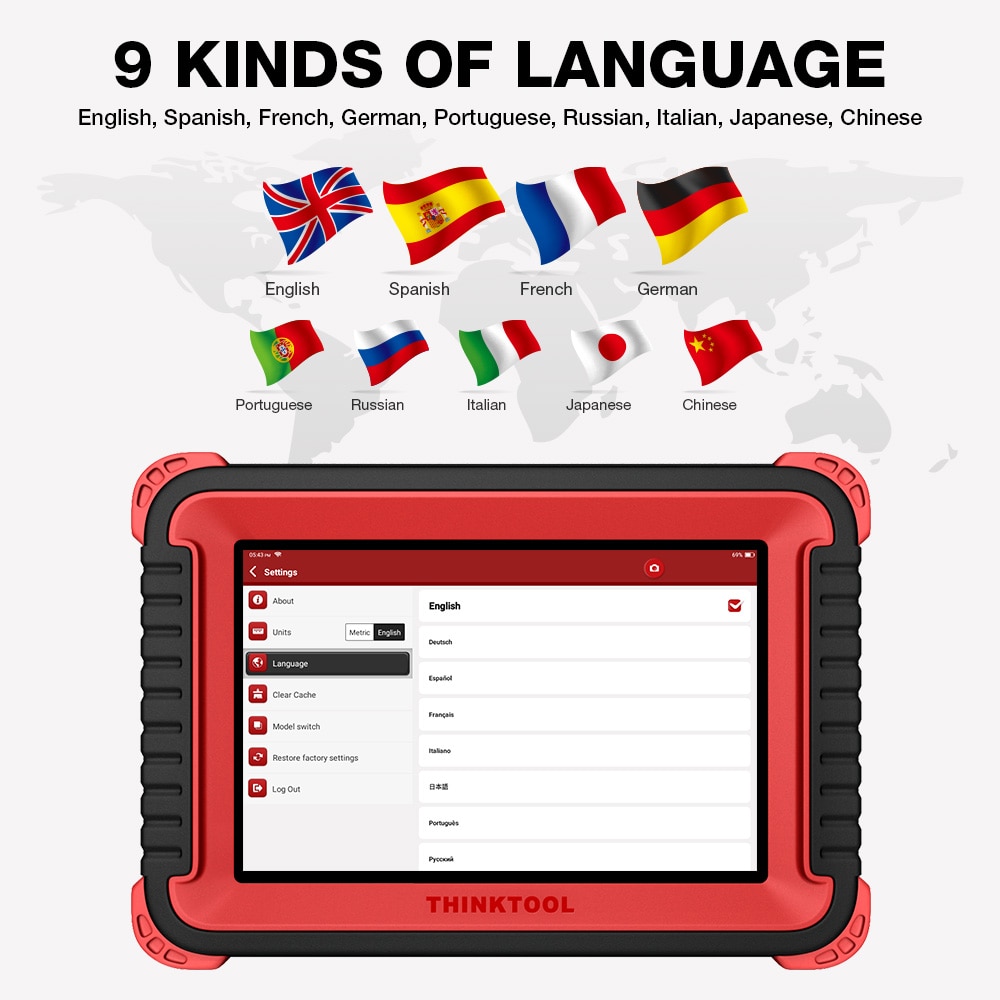 Technical Support Service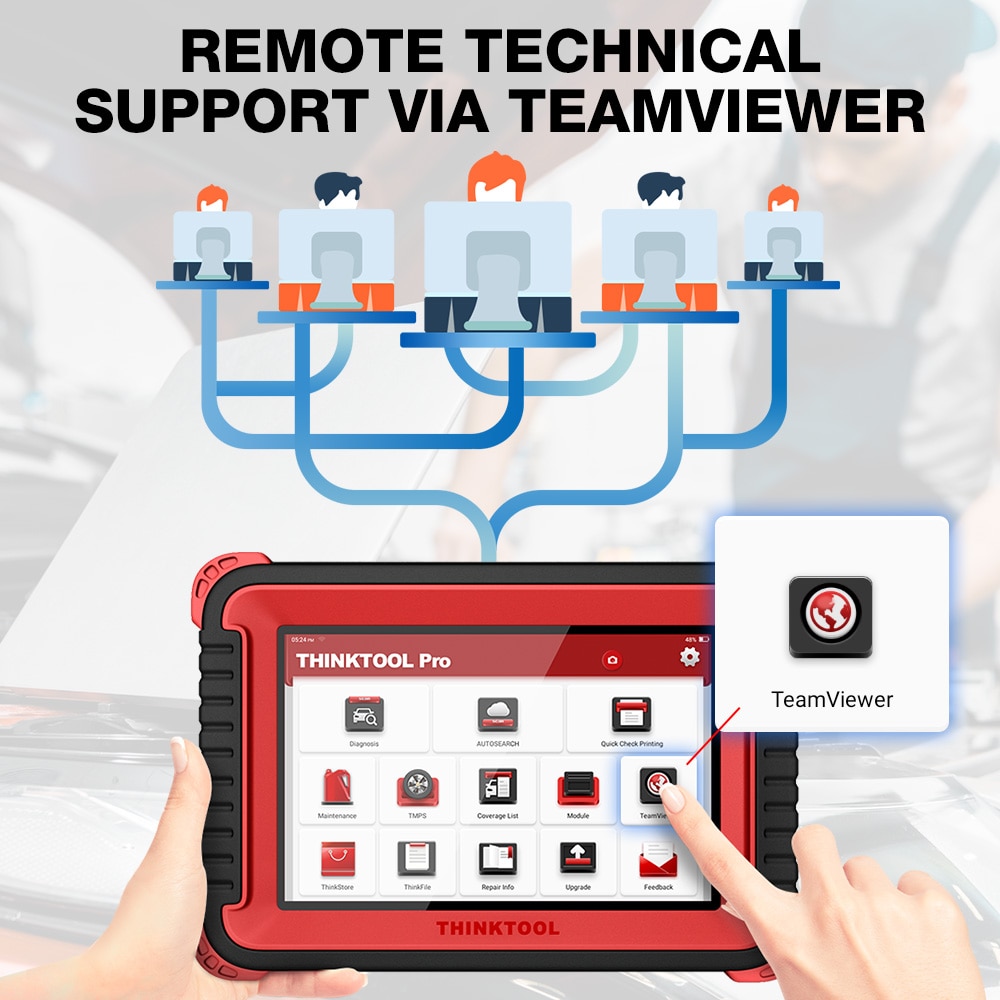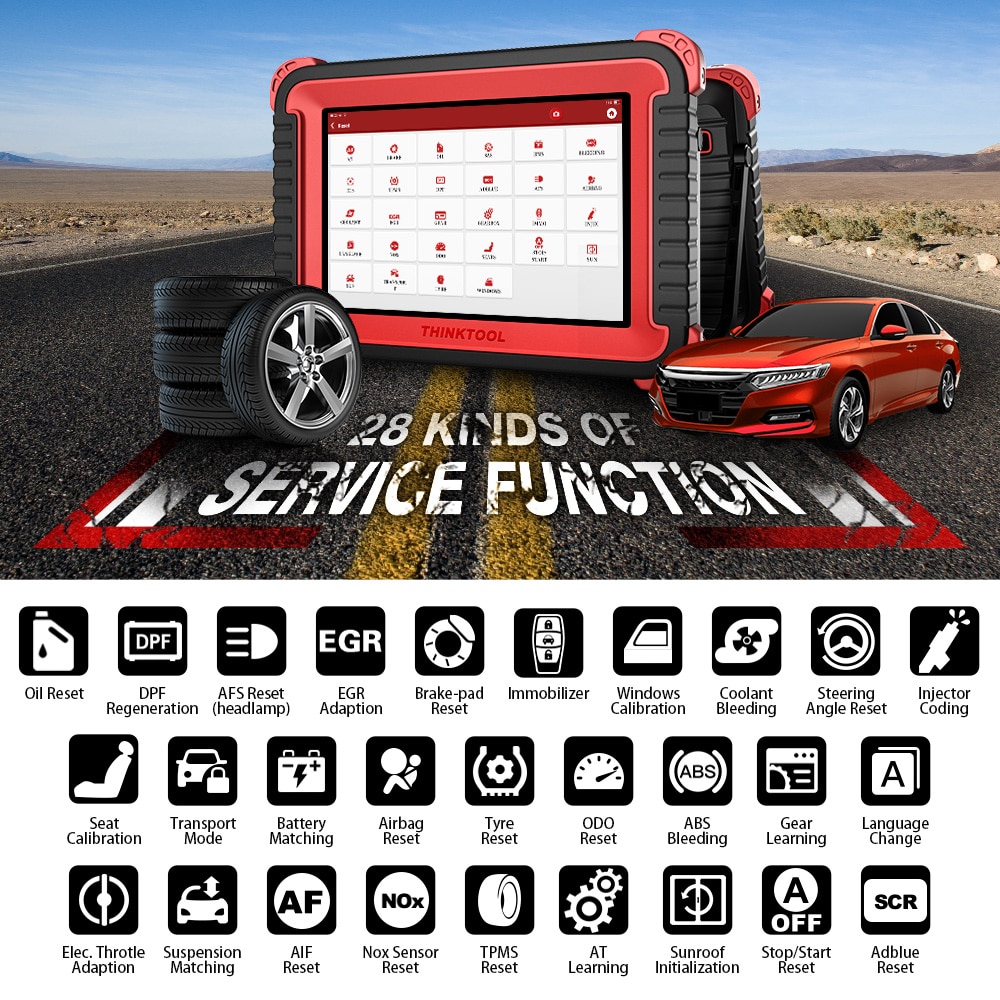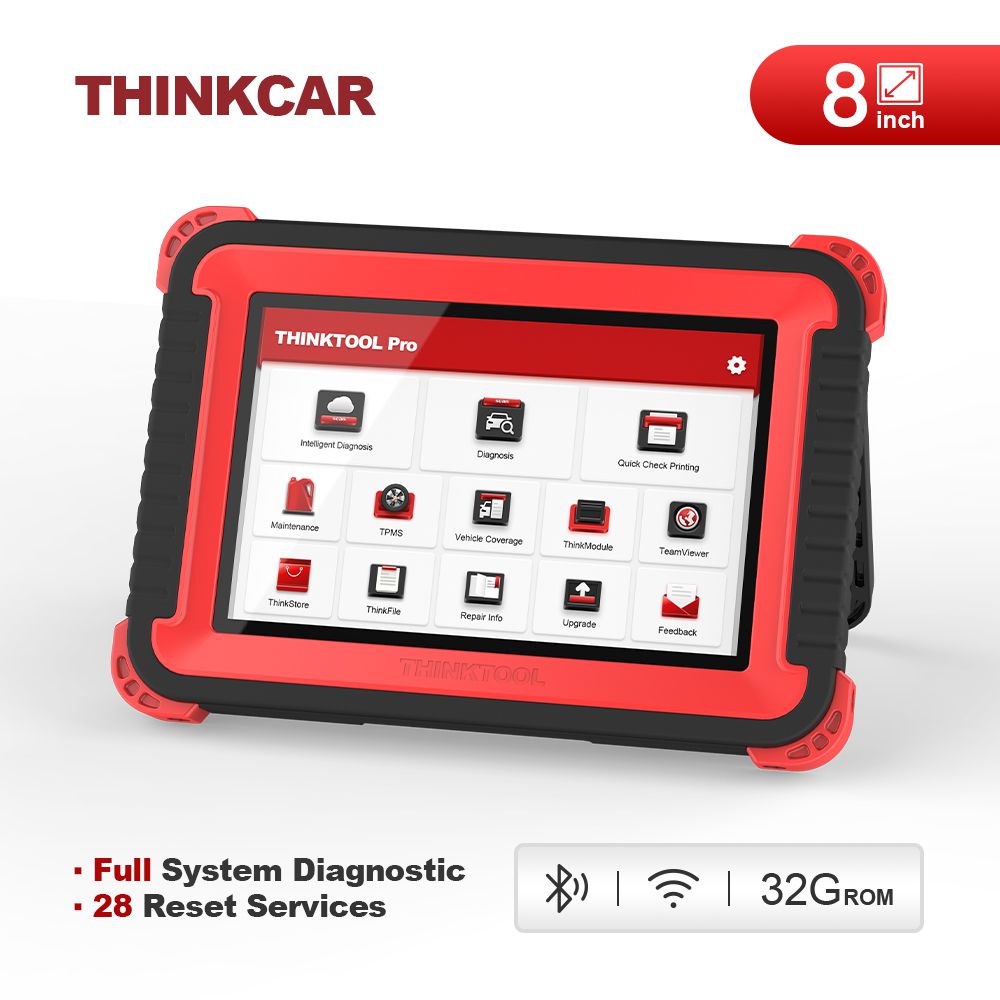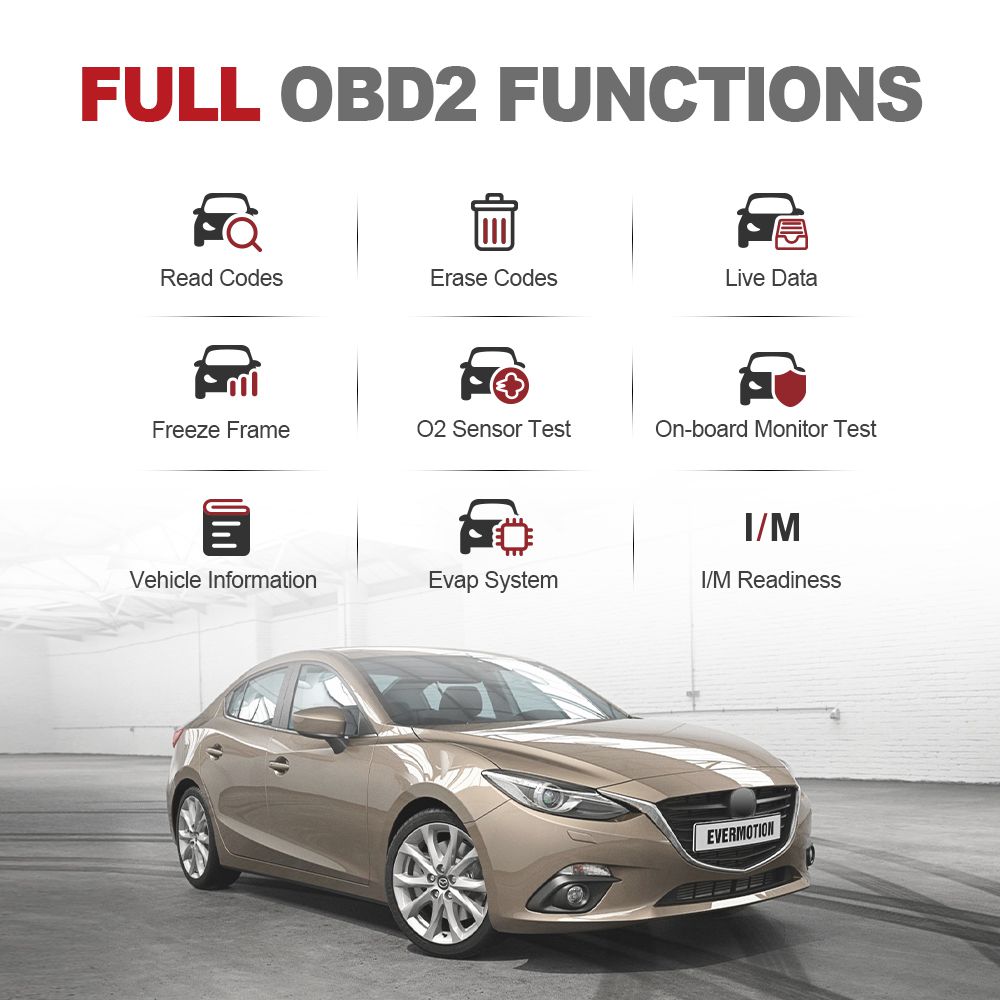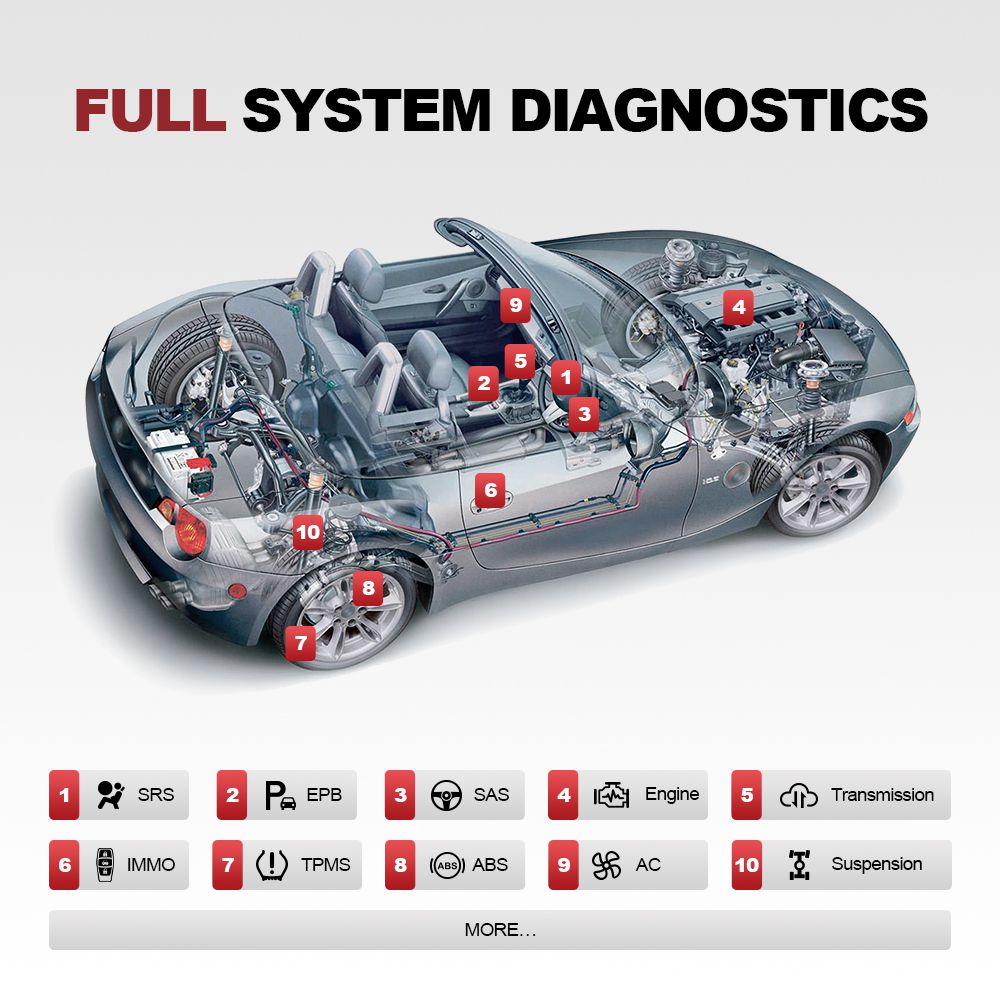 ThinkTool Pro Support 28 Maintenance Service
1.Oil Lamp Reset Service
Allows you to perform reset for a new calculation of engine Oil Life system once changed the oil.
2.EPB Electronic Park Brake Reset
It is important in the maintenance of electronic braking system's safety and efficiency.
3.BAT battery service
Allows the scan tool to evaluate the battery charge state, monitor the close-circuit current, register the battery replacement, and activate the rest state of the vehicle.
4.DPF Diesel Particulate Filter Reset
Specially works for Diesel Particulate Filter system with DPF regeneration, DPF component replacement teach-in and DPF teach-in after replacing the engine control unit.
5.SAS Steering Angel Sensor Reset
Helps clear the fault steering angle sensor memories and plays an important role in the steering angle sensor calibration.
6.TPMS Tire Pressure Monitoring System Reset
Makes sense in displaying sensor IDs from the vehicle's ECU, inputting TPMS sensor replacement IDs and testing sensors.
7.IMMO Key Programming
The unique car key programming and read pin code function, it is mainly used to disable the lost vehicle keys and program a new replacement key fob.
8.ABS Bleeding
ABS brake bleeding to get a firm brake pad after air exhaustion after repair ABS pump system.
9.Sunroof Reset
The sunroof needs to be reset when the sunroof control unit have communication problem or changed.
10.Suspension Reset
Try reset electronic suspension air ride with the massage system close all doors koeo flip through messages system go to suspension reset or on off.
11.Gearbox (Transmission )Reset
Procedure Reset Transmission Adaptive Learning DIY. Start the car and drive. Once you perform this procedure the Engine Control Unit (ECU) and Transmission Control Unit (TCU) will work together to learn how you drive by monitoring your driving pattern. After you follow this programming method of the TCU / ECU drive the car.
12.AFS Headlamp Reset
'AFS' means Adaptive Front lighting System (at night with the Bi-Xenon headlights) it swivels either side, pressing that button means they stay pointing straight ahead and don't turn when you turn the steering wheel.
13.Injector Coding
Leaking injectors and some dead injectors can be missed even when an injector is disabled. Other problems with the ignition system and mechanical components also may not show an rpm loss when an injector is turned off.
14.Throttle Adaptation
The throttle body is a tube containing a pivoting flat valve (butterfly) that is used to control the amount of air entering an engine. In an electronically fuel injected car, a throttle position sensor and air flow sensor communicate with the computer, which supplies the corresponding amount of fuel needed at the injectors. It must need re-learning throttle sensor position after clearing or repair.
15.Gear Learning
The scan tool monitors certain camshaft position sensors signals to determine if all conditions are met to continue with the procedure for Engine running.
More….