OBDSTAR X100 PRO Auto Key Programmer (C+D) Type for IMMO+Odometer+OBD Software Get OBDSTAR PIC and EEPROM 2-in-1 Adapter Free
Top 8 Reasons to Get OBDSTAR X-100 PRO Auto Key Programmer:
1. Original from OBDSTAR, Support EEPROM Function, with OBDSTAR PIC and EEPROM 2-in-1 Adapter free in package
2. Free Update Online on OBDSTAR Official Website for 1 Year, 90usd/year after 1 Year
3. Inherited the overall look of the original X100 +, changed the new silicone button, feel more comfortable
4. Adjusted the TF card slot position in mold, fit more tightly than previous generation, card plug will not go inside the machine
5. Software downloading speed is improved by more than 50%
6. New upgraded software operating system, added operating interactive prompt
7. High-capacity 4G TF card, more stable performance, never appear white screen
8. New design of PCB hardware, greatly improved configuration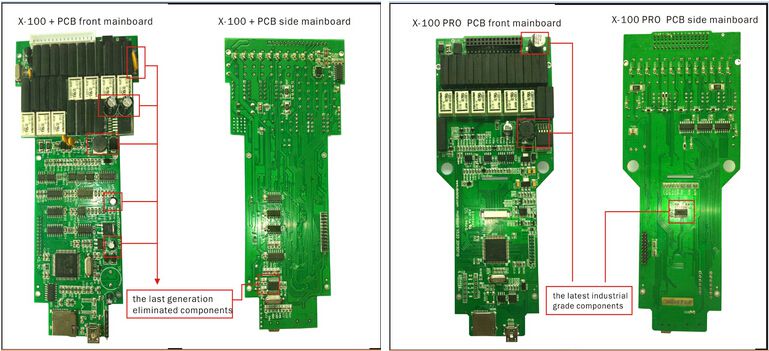 Notice:
1. Language: 
English, SiMPLified Chinese, Traditional Chinese
2. Dealer Code: 
860755B1
3. Configuration(C+D): IMMOBILISER+ OBD Software and Odometer Adjustment + OBD Software
4. Not Support Toyota G Chip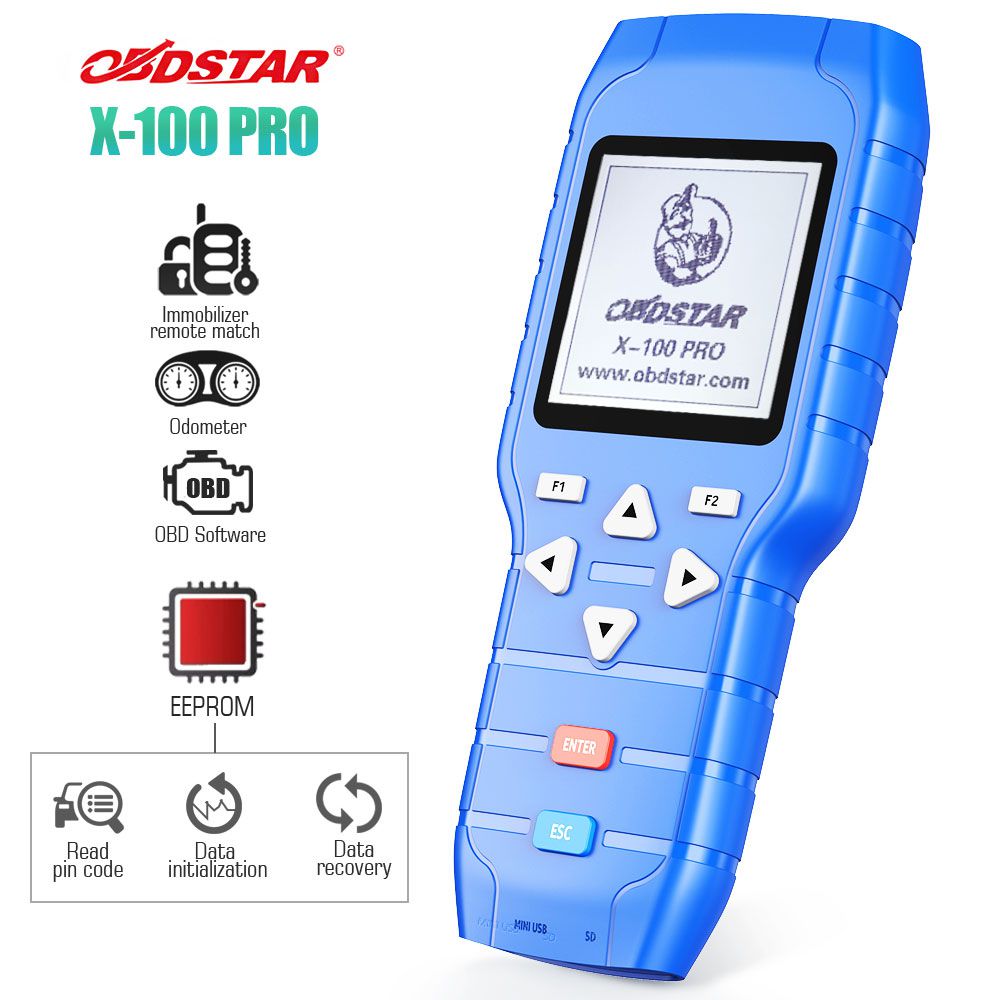 OBDSTAR X100 Pro Features:
1. New keys programming
2. Reads keys from IMMObilizer's memory
3. New immobilizer programming
4. New ECU programming
5. New mechanical key number programming
6. Vehicle Identification Number programming
7. Reset ECU&reset immobilizer
8. Easy to operate by the guided menu programming
9. New remote controller programming
10. Immo PINCODE reader
11. Odometer ajustment(Via obd)
12. With full and strong database for the most important vehicle makes
13. Upgradeable via web-based download
14. EEPROM Chip read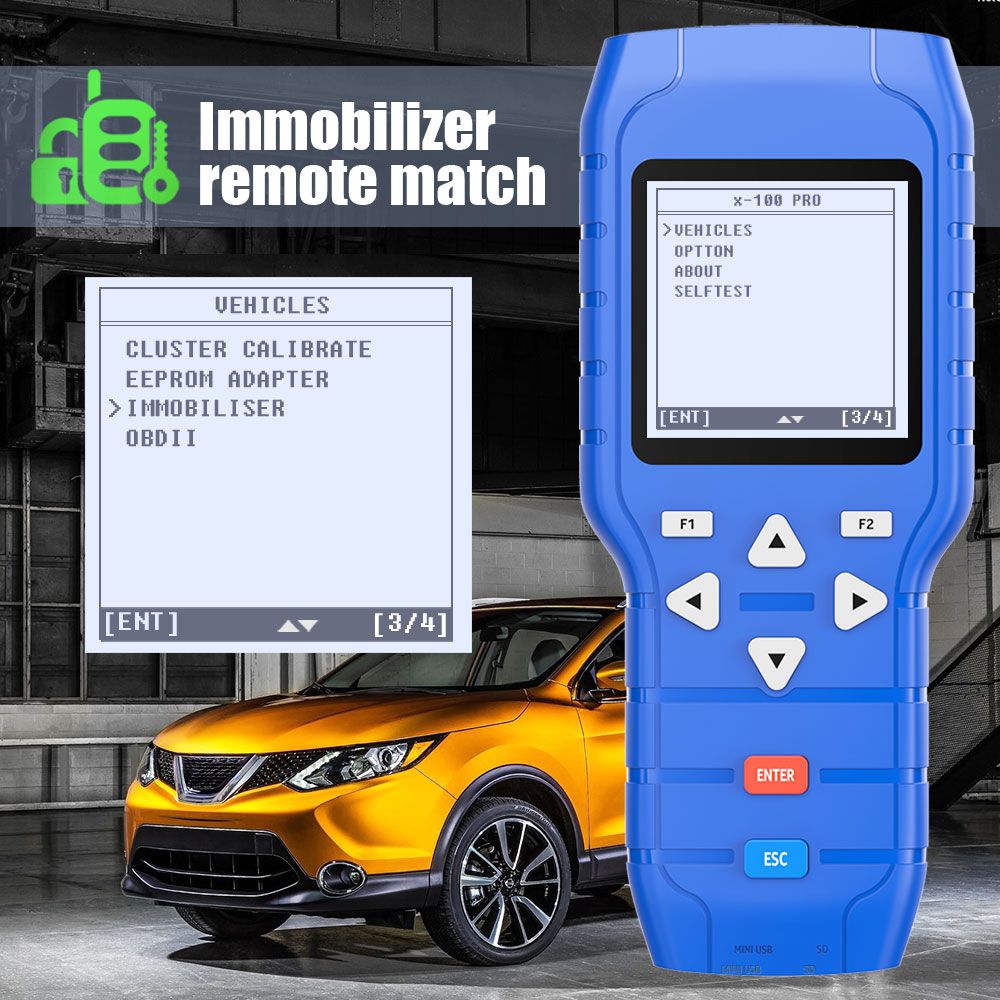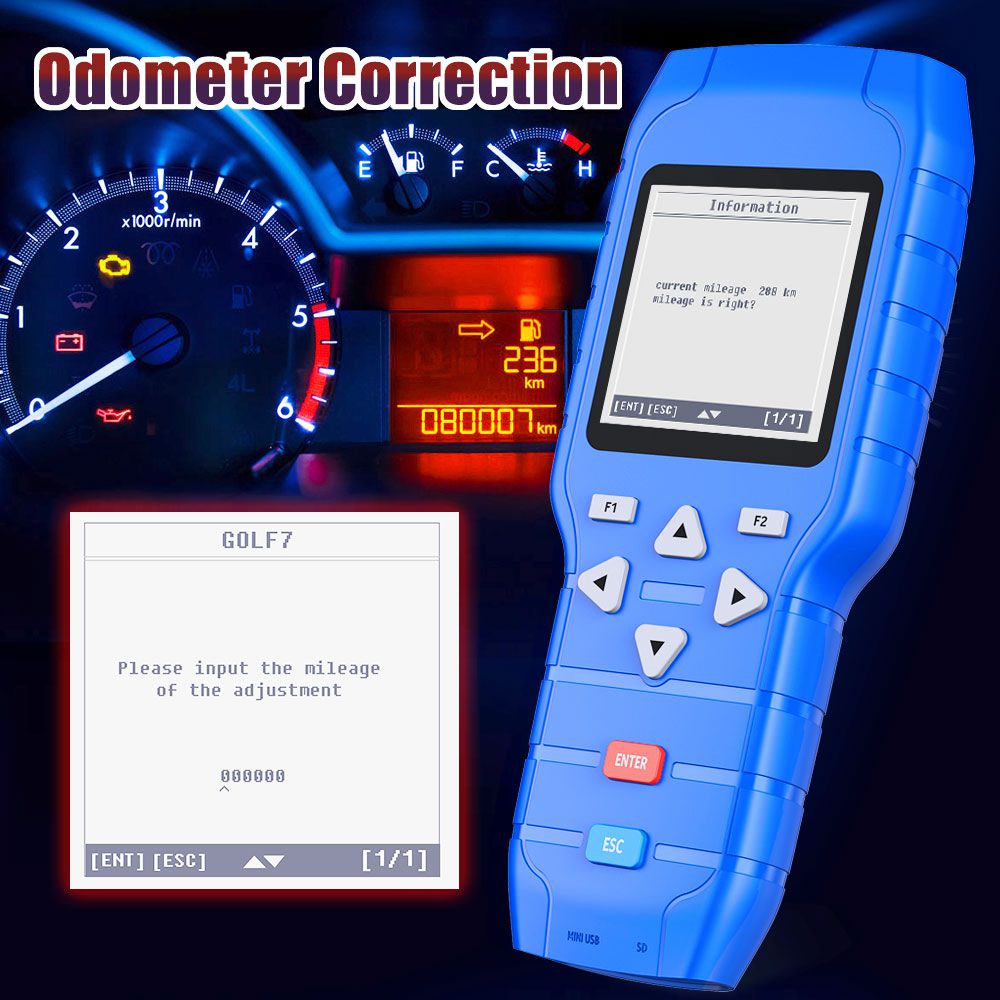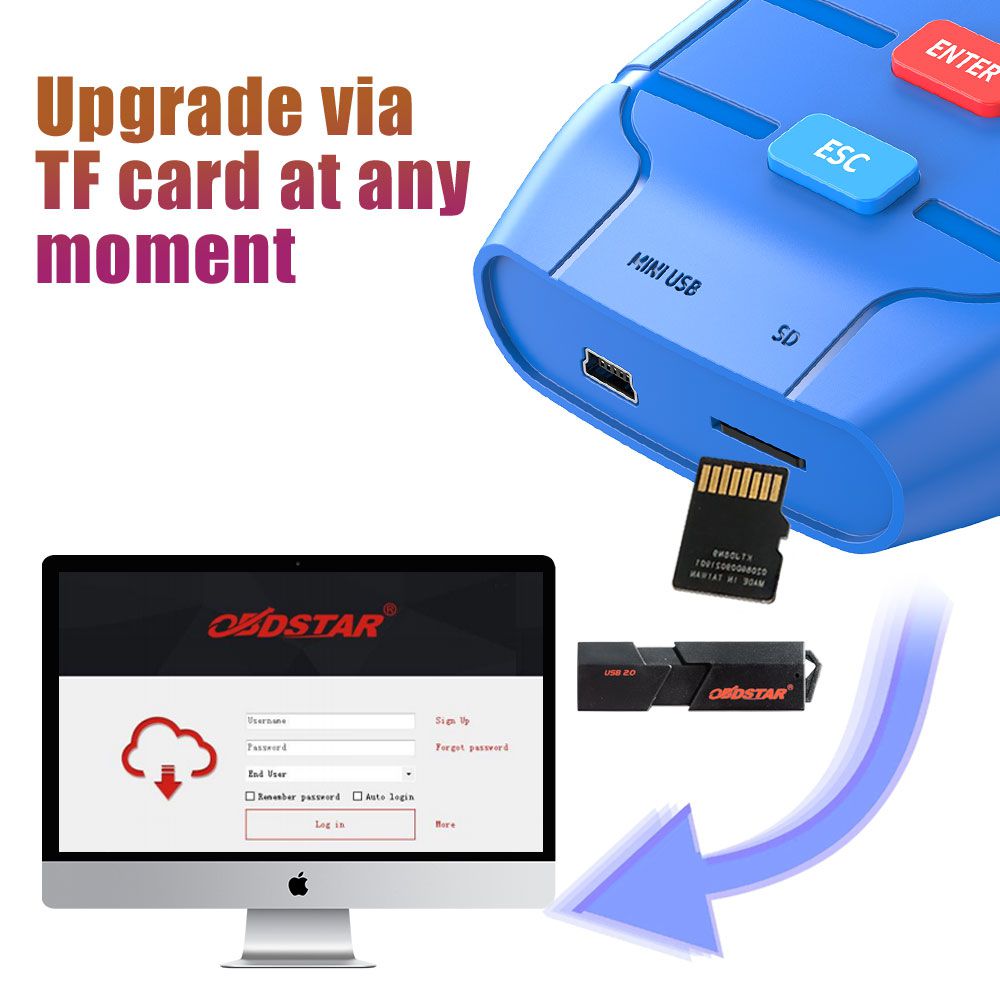 What's the difference between this OBDSTAR X100 and XTOOL X100?
1. OBDSTAR X100 can support EEPROM function, while XTOOL X100 can't
2. OBDStar X100 can't support Proton, while XTOOL X100 can
X-100 Pro Vehicle Coverage:
EEPROM Adapter: EEPROM ADAPTER V30.40
Immobiliser: ACURA, Audi, BAIC, BESTURN, BRILLIANE, BYD, CHANGAN, CHANGHE, CHERY, Chrysler, CITROEN, DFLZ, DFPV, DS, FORD, GEELY, GM, GREATWALL, HAFEI, HAIMA, HAWTAI Motor, Honda, HONGQI, HUAPU, Hyundai, INFINITI, JAC, Jaguar, Kia, LANDROVER, LEXUS, LIFAN, LINCOLN, LUFENG, Mazda, MG, Mitsubishi, NISSAN, OPEL, Peugeot, PORSCHE, RENAULT, ROEWE, SAIC ENGLANG, Seat, Skoda, SMART, SSANGYONG, SUBARU, SUZUKI, TOYOTA, VW, YOUNGLOTUS, ZZMAZDA, ZZNissan;
OBDII: OBDII V30.02 for diagnose
Odometer: Audi, VW, BENZ, Chrysler, FORD, GM, PORSCHE, Skoda, Seat
And the more cars' software will be released.
Remark: 
including X-100+ all the matching function and add new software function in X-100 PRO. 
Do not include Proton this car model
OBDSTAR X100 Pro Update Information on March 2020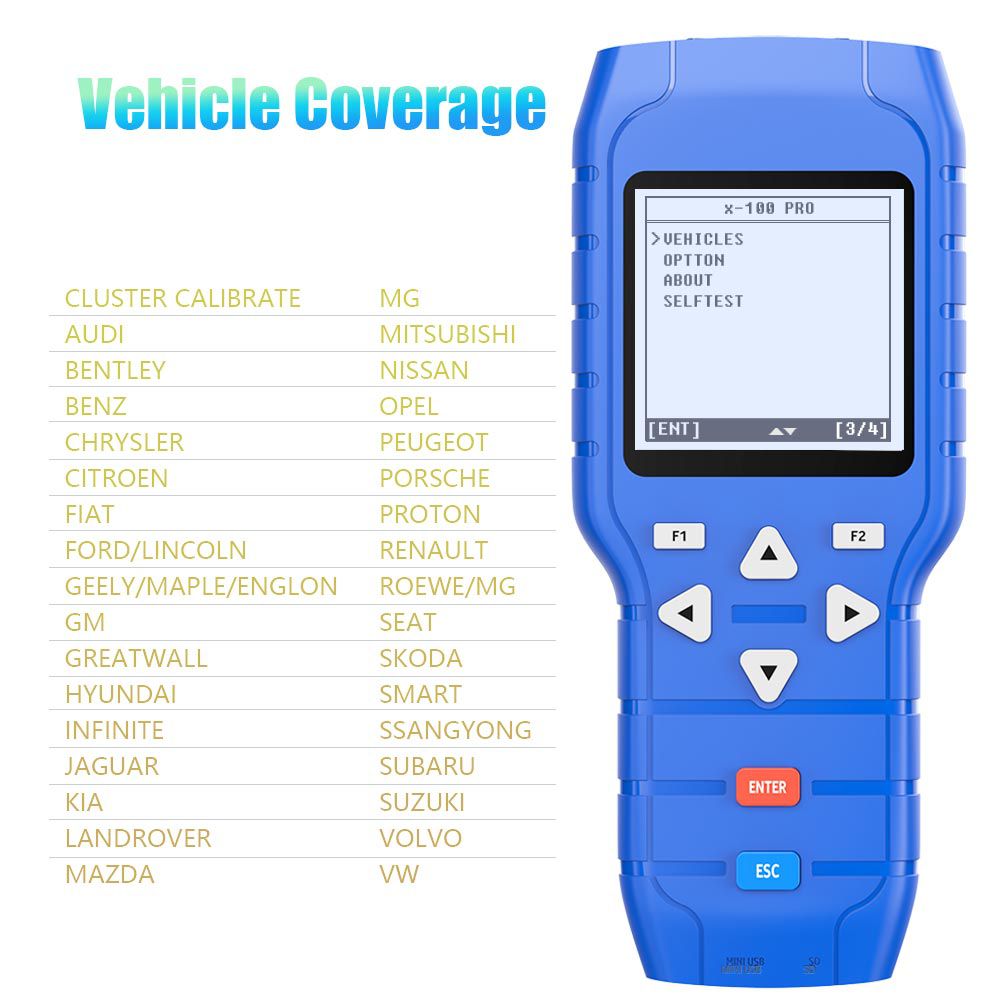 Subaru [V30.37] Upgrade
Africa Area:
Increased TREZIA 2010-2015 smart key system
Increased OUTBACK 1998-2004 IMMO system
Increased FORESTER 1998-2002 IMMO systemAustralia Area:
Increased BRZ 2013- IMMO system and smart key system
Increased FORESTER 2013- smart key system
Increased IMPREZA 2013-/2007-2014 smart key system
Increased LEVORG 2016- smart key system
Increased LIBERTY 2013-/2007-2014 smart key system
Increased OUTBACK 2015-2017 smart key system
Increased WRX 2014- IMMO system and smart key system
Increased XV 2017- smart key system
Europe Area:
Increased FORESTER 2008-2012 smart key system
Part 1: OBDSTAR X100 Pro IMMO & Remote Feedback:
-Maruthi Suzuki key programming in 2 min , Hyundai I 20 key programming done , Hyundai verna fludic remote done in few seconds. Yes, it can do key lost and also u can add.
-Honda cars,both making a spare and All key lost and remote programming,so far never failed.
-Mitsubishi Pajero 2014. All key lost OK.
-Hyundai i 10 Key ok…
-Hyundai i 10 remote ok .
-Hyundai i 10 grand remote in 2 min ok
-honda crv 2008 remote and key ok
-jeep cherokee 2008 remote and key ok
-mazda cx9 2009 smart key ok
-FORD Eecosport 2015 Flip key programming ok…
-Suzuki Ignis 2003 all lost key, programming new key OK.
-Hyundai GETS 2007 KEY OK
-HONDA ACCORD 2008 KEY AND REMOTE OK
-Range rover sport hse 2012 start button , All key lost OK
-2013 Elantra remote OK
-2007 VW Rabbit add key and remote OK
-2012 Town&County smart key OK
-2002 Jetta add key FAIL (vehicle not supported msg, cant even read pin code)
-2007 Quest add key OK
-2008 Accord add key OK
-2016 Subaru Forester add keys OK, remote program FAIL
-Range rover sport 2007 add key ok
-subaru outback 2008 add key ok
-infinity fx 2009 smart key ok
-Audi a4 2006 rb8 dash diesel engine read pin from ecu Ok
-Mazda 2 2009 all ok job done in seconds
-Tucson 2014 .. key and remote programing ok
-GMC ACADIA 2008 CAN'T ADD KEY…YOU SHOULD DO All key lost …. 12 MINUTES … JOB COMPLETE
-FORD raptor 2012 key programing ok at least 2 keys must have
-FORD expedition 2011 All key lost ok
-accent 2012 key programing pin read ok
-i10 2012 read pin and swap ecu (ecm neutrelize) ok all ok
-prado txl and gx 2013 smart key programing ok \
-prado 2012 ignition key programing ok \
-Good tool for Honda. transponder + smart even all keys lost.
-Nissan leaf,Xtrail both are ok
-TOYOTA Hilux add g chip key easily. did one for all keys lost with eeprom adapter too.
-TOYOTA innova key added Ok
-2010 Ford Ranger,4D63.. All key lost OK.
– Mazda 5 2006 All key lost ok
– Honda Amaze petrol 2015 key + remote in 15 min ok
Chevrolet camaro 2010 All key lost ok, but you have to put security code…x100pro cannot read it
– Mitsubishi pagero 2012 yes
-Mazda cx9 2011 programmed smart key ok
-Renault v30.50 pin code read logan 2008 OK
Part 2: OBDSTAR X100 Pro Mileage Correction Feedback:
GM vehicles…test ok:
Chevy Trailblazer 2008 & 2004 Fail "Fail to connect" …tried a few other chevy but the miles reading was far off.
Town and Country 2009 – OK…Surprisingly it did both Cluster and SRI in one shot.
Chevy Avalanche 2007-2012/2013 OBD Read & Write = OK
Chevrolet silverado 2007 ok
cadillac escalade 2010 ok ( it show old mileage)
gmc terrain 2010 ok (show old mileage)
cadillac srx 2010 ok(show old mileage- need to turn ignition off then on to show new mileage)
Chevrolet Aveo / Sonic 2013, try to lower it by Aveo / Sonic, the reading was correct, but to re-enter the new mileage: fail security, treated by Cadillac ATS 2013, and there were no problems, perfect job.
Chevy cruze 2016 —- ok 30s
Chevrolet Captiva 2009 year, micro motorola, all ok working
Chevrolet suburban 2007 ok .. it show old mileage…. i have do 3
Vauxhall Vivaro 2013 – couldnt do it
Chevrolet Trailblazer 2015 OK, 5 seconds job for rollback KM
GMC c4500 2004 work with GMC Savana OK
– gmc captiva 2008 ok
– GMC Savanna 2016 year Mileage OK ,
Chevy captiva 2009 …… great success
Jaguar Landrover…test ok
Jaguar XE 2015 obd ok first backup then do mileage
Range Rover 2011 OBD ok
Range rover Evoque 2013 ODOMETER_MILEAGE ok
Range Rover Evoque 2014 flawless
Range rover 2013 ok ( doesn't show old mileage…. it ask you only yo write new mileage )
Range Rover Evouge 2016 – miles OK
Pathfinder 2015 – OBD =OK Read & Write.
VAG vehicles…test ok:
Audi A4 2007 ok
04 audi a4 rb4 OK.. Around 10min
Audi q5 2011 ok wait 15 min
Audi A4 RB4 2004 OK
A3 2005, Fujitsu – OK
04 audi a4 rb4 OK.. Around 10min
Audi A4 2004 OK… ….
Audi A4 2007 RB8 OK
-audi s4 2008 is ok working
-A3 2007 – OK
-audi A4 …2013 perfect ….8 min.
-aud Q5 2010 obd about 20minutes
– audi A5 2008 obd about 20minutes
– 2012 A1 Audi 1.4tfsi does it go via obd
Chevy Malibu 2015 OK
eventually OK…
VW Passat 3BG 2002 -> OBD (KLine) = ok
2015 Range Rover Vogue
Seat Ibiza 6J 2010 -> OBD = OK
Scirocco mileage 2008 OK
2008 vw rabbit >ad key OK
VW Golf V 2005 -> OBD = ok
Maserati Quattroporte V 2004 -> OBD = ok
VW Golf V 2005 -> OBD = ok
Golf 4 2002
Skoda Superb 2013 -> OBD = OK
Volkswagen jetta 08 – OK. Had to choose option from magotan.
Touran 2013 NEC+24C64 13- OK
GOLF 6 2009 nec+24c32 OK
Golf 4 2002. obd ok. 5min (did read old mileage perfect)
Mazda 3 skyactive, After actualitation, perfect work.
Beetle 2014 OK wih backup file option….
Ford Chrysler…test ok:
-Ford Fiesta 2014 works with x100 pro. but maybe not all displays..
Ford Fiesta amber and blue colour dash works fine i have done many
-Ford Focus, C-Max in 2014 work
-2013 Chrysler Town and Country >ad smart key OK
-Ford Transit 2014 blue screen dash – couldnt do it, I tried by focus and new mondeo. Read correct miles by focus, but after adjustment cluster was frozen. Reconnect battery sorted that problem.
FORD ECOSPORT 2015 —– OK TYPE I
Ford Mondeo Mk4 2013, dash color , OK… 2 min.
FORD focus 2012 ok. i do it with ford focus 2013- menu .. take about 1 minute
Ford Fiesta 2016 obd ok (1min)
Ford fiesta 2012 red screen. obd ok.
Ford Ranger 2016 work OK.
Ford ranger 2016 mcu spc560 obdstar x100 can do
-Ford Expedition 2011 year OK
-ford focus 2015 mileage OK
Jeep Vehicles…test ok:
2014 jeep Cherokee obd OK
jeep grand cherokee 2012 done 3 today ok (it show me exact old mileage)
jeep cherokee 2008 ok ( old mileage is wrong ) but when you write it the mileage is ok
Jeep compas 2008 cvt perfect work , 2 min.
Jeep compass 2008 ok 30 sec
Jeep grand cherokee 2014 DASH BIG SCREEN ok LESS THEN 30 second
Jeep Grand Cherokee 2013 , perfect works 2 min aprox.
Hyundai Nissan cars…test ok:
Hyundai tucson 2016 w renesas ok
Hyundai tucson 2016 w renesas ok
Hyundai elantra 2013 24c16 OK
-Hyundai accent 2015 obd OK up to 1min job
Nissan Leaf 2015 Electric Car mileage correction ok via obd. select Altima and ok
Mazda vehicles…test ok:
Mazda 2 2012 OK …
Mazda 2007 ok
Mazda 3 2017, Read and Write OBD = OK
Mazda 3 2011 with red numbers by Obd,.. ok
Mazda 3 2012 ok date backup and miles correction
Mazda 3. 2004. obd ok.
Mazda 3 on bench OK
Mazda 3 2008 to change dashboard, program keys, align ECU<>dash, make eeprom backup, make odo …OK
-Mazda 3 skyactive 2015 perfect works, 2 min and km exactly, version obdstar other models 30.57.
Mazda 6 —AUTO—OK
Mazda 6 2005 ok
Mazda 6 2010 ……………..ok
-Mazda 6 2002 10sec
Mazda cx9 2010 ok (show old mileage)
Mazda RX8 mileage correction ok via obd
Mazda CX7 2007 OBD Read & Write = OK
MAZDA CXX —AUTO—OK
Mazda Damio 2010 mileage correction ok via obd. 93c56
Fiat cars… test ok:
Fiat 500 2011 0.9 dualogic OK
Fiat Qubo_2009;
Fiat Fiorino_2010;
Fiat Doblò_ 2012 program dash-KM ok are equal protocol. Programming do it fine.
Fiat bravo 1.4 turbo jet 2012 abarth , perfect work.
Fiat albea ok with obdstar
Fiat Doblo 1,6 2011-OK
-Fiat Punto 2013 , 95160 mileage OK
Kia vehicles… OK
kia rio 2016 D70F………….ok
kia rio 2015 D70F3423 OK about 1 minute
Kia Rio5. 2012. Done in a flash
Kia RIO 2016 —— OK
Kia rio 2015 obd ok
Kia rio 2016, d70f….. perfect works.
Kia Sportage R 2014 obd ok
Kia Optima 2011 24c16 -OK
Others…test ok
Maserati Quattroporte V 2004 -> OBD = ok
Peugeot Boxer 2014 – miles OK
azera grandeur 2013 ok
Today I did this car I20 via obd i got exat km in the cluster .
Dodge ram 2500 2005 dash ok
CX5 2013 done in seconds via obd. Only thing was reading in miles instead of KM. When programming need to input km in miles.
Not ask ECU code for latest software update
engine Hour remain the old value….
-2013 audi s5 obd OK.. 30min
-VW caddy 2013 nec+24c64 White, Reading eeprom, mileage 3 min.
-chevrolet tahoe 2008 obd ok 2minute
-PORSCHE Panamera GTS 2011-read, write, change, backup- OK
-Touran 2013 nec+24c64 color meter mileage OK
-Seat ibiza 2012 NEC+24C64 mileage OK
-Skoda Octavia 2010, version 31.13, perfect works, 5 min aprox and 4 km difrence.
-A 4L 2009, 5 min. went fine.
-Nissan Pathfinder (altima) 2015,24c16, perfect works! km exactly and 2 min aprox, other models v30.57.-
Touareg 2008 30sec
-Chevrolet avalanche 2008 work like a charm
-Dodge charger 2011read and write ok need about 4minutes to coMPLete job
OBDSTAR X100 Pro FAQ:
Q1: Nissan QashQai J11 2016 All key lost. It has Hitag-AES pcf7939 key. What tool to use? X100 pro ok?
A1: I confirm ALL WENT SUCCESS with OBDSTAR X100pro. Much important INFO!: it must have PRO in the name wink1 (that means you have ORI tool).
Q2:Can I program a Mazda Demio sport 2007?
A2:Yes,it can.
Q3:Can i program a honda accord 2002 key?
A3:Yes,it can program Asia Accord 2002-2008.
Q4:Can i program us 2005 honda accord?
A4:Yes,it can.
Q5:Where is this product being shipped from?
A5:From China.
Q6:Can i program a volkswagon passat 2005?
A6:Yes,you can.
Q7:Can i program 2001 toyota avalon (us version)?
A7:Sorry,it can't
Q8:Can i programing ford transit 2013 key (lost key)
A8:It will not program Ford vehicles
OBDSTAR X100 Pro Packing List:
1pc x X-100 RPO Main Unit
1pc x EEPROM Adapter
1pc x OBDII-16 Connector
1pc x HONDA-3 Connector
1pc x HYUNDAI/KIA-10 Connector
1pc x KIA-20 Connector
1pc x Main Cable
1pc x TF Card
1pc x TF Card Reader
1pc x X-100 PRO User Manual
1pc x OBDSTAR PIC and EEPROM 2-in-1 Adapter