OBDSTAR X300 DP PAD Tablet Key Programmer Full Configuration
Supports TOYOTA G & H Chip All Keys lost (North American and Middle East area), BMW FEM/BDC Key Programmer, VAG MQB Mileage Correction
Full Configuration: IMMObilizer+ odometer Adjustment+ EEPROM/PIC Adapter+ OBDII+ ABS+ TPS+ SRS Reset+ TPMS(Low Tire) Reset+ Steering Angle Reset+ CVT Learning/Value Reset+ EPB+ Oil/service Reset+ Battery Matching+ Diagnosis (Japanese and Korean Series) + Diesel Particulate Filter
OBDSTAR X300 DP VS OBDSTAR X300 PRO3 in terms of function:
1. OBDSTAR X300 DP can support BMW FEM/BDC and Hyundai/Kia 46/47 pin code reading function, while X300 PRO3 not.
2. So far OBDSTAR DP Full Package can perform full system diagnosis on Japanese and South Korea vehicles, and Newly Add FORD & Chrysler too, other vehicles will be added in 2018.
While OBDSTAR X300 PRO3 does not include diagnostic system yet.
OBDSTAR X300 DP Software Update: One Key Upgrade, Free Update for One Year. After one year, it will cost 199usd/year.
Language: English (Default), Turkish, Thai, Portuguese, French, Russian. If you need to change language, price will be usd185.
OBDSTAR X300 DP is the first tablet of OBDSTAR, which has reached a higher level in key programming and diagnosis. Inheriting from OBDSTAR professional auto programming and advanced diagnosing technology, X300 DP is characterized by covering wide range of vehicles, featuring powerful function, and providing superior quality. Meanwhile, taking advantage of Android system, X300 DP integrates more application and service, such as Maintenance Database, remote assistant, and One Key Update etc.
OBDSTAR X300 DP Full Version covers almost all functions of previous OBDSTAR Tools.
OBDSTAR X300 DP= X100 Pro + X200 Pro + VAG Pro + X300M Mileage Programmer + X300 Pro3 Key Master + F108/H108 PSA + F100/100 FORD Mazda Functions + H110 MQB VAG IMMO & KM+H105 Hyundai & Kia
All in one, nothing is impossible!
OBDSTAR X300 DP is a convenient device, combining Android system, IMMObilizer, diagnose and special function, which closely follows the global trend and greatly meets the demand of users. In addition, abundant and powerful maintenance database and car testing video have realized easier operation and real success. Furthermore, Remote guide strengthens the communication between end users and technicians, without worries about after -sell service.
Android system is equipped with clear and user-friendly interface.
Diagnostic function strengthens professionalism in auto key programming.
Large amount of videos help users to operate it easily.
Maintenance database offers more powerful data.
Remote guide achieves zero distance between users and technicians.
Report center helps mutual improvement of terminal experience and technology.
One key upgrade realizes with one click.
Industrial design ensures that the tool works stably under tough environment, such as high or low temperatures.
Multi-language environment can be applied in different countries and areas
OBDSTAR X300 DP Car List:
Benz, BESTURN, BMW, BRILLIANE, CHANGHE, CHERY, CHRYSLER(Chrysler/DODGE/JEEP), DFFENGSHEN, DFPV, FAW, FIAT, FORD/LINCOLN, GEELY/HUAPU/SQYL, GM(Buick/CADILLAC/CHEVROLET/GMC/HUMMER), GREATWALL, HAFEI, HAWTAI, HIMIKO, HNMAZDA, Honda/Acura, HONGQI, HYUNDAI, ISUZU, JAC, JAGUAR, KIA, LANDROVER, LIEBAO, LUFENG, LUXGEN, MASERATI, MAZDA, MITSUBISHI, NISSAN/INFINITI, OPEL, Peugeot/Citroen, PORSCHE, PROTON, QQROS, Renault, ROEWE/MG, SGMW, SMART, SSANGYONG, SUBARU, SUZUKI, TJFAW, TOYOTA/LEXUS, VW/Audi/SKODA/SEAT, YOUNGLOTUS, ZZMAZDA, ZZNissan;
Note: There would be some difference to software in different countries. If need more specific information, pls feel free to contact us or our distributors in your area.
OBDSTAR X300 DP Function:
Read and clear fault codes;
Clear key memory;
Program keys, proximity keys, smart key, flip keys;
Program after-market and OEM keys;
Display live data;
Component actuation;
Read keys from immobilizer memory
New ECU programming;
New mechanical key number programming;
Vehicle identification key programming;
Reset ECU& Reset immobilizer;
New remote controller programming;
Immo PINCODE reader;
Mileage adjustment via OBD;
With full and strong database for the most important vehicle makes;
VCI diagnose
One key upgrade via wifi
Remote assistance
Built-in repair video
Report center
EEPROM chip read and immobilizer initialization;
EPB(Electric park brake);
Oil/Service reset;
Battery matching;
ABS
TPS
SRS reset
TPMS(low tire)reset
Steering angle reset
CVT learning/Value reset
EEPROM/PIC adapter
OBDII
Diagnosis (Newly Add FORD & Chrysler)
OBDSTAR X300 DP Feature:
Powerful Samsung Cortex A9 dual-core processor
7-inch capacitive touch screen(1280*800) & backit and multi-point LED
2G RAM and 16G ROM(memory can be extended)
7000MA lithium-ion battery & 10-hour battery life
Unique ergonomic design and tri-proof case with high security
Cover all functions of X100,X200,X300PRO and VAG-PRO 7. Add diagnostic function of whole-vehicle system
One key upgrading, long-distance diagnosis, more convenient after-sales service.
OBDSTAR X300DP Full Version Free Upgrade on Apr 5th, 2018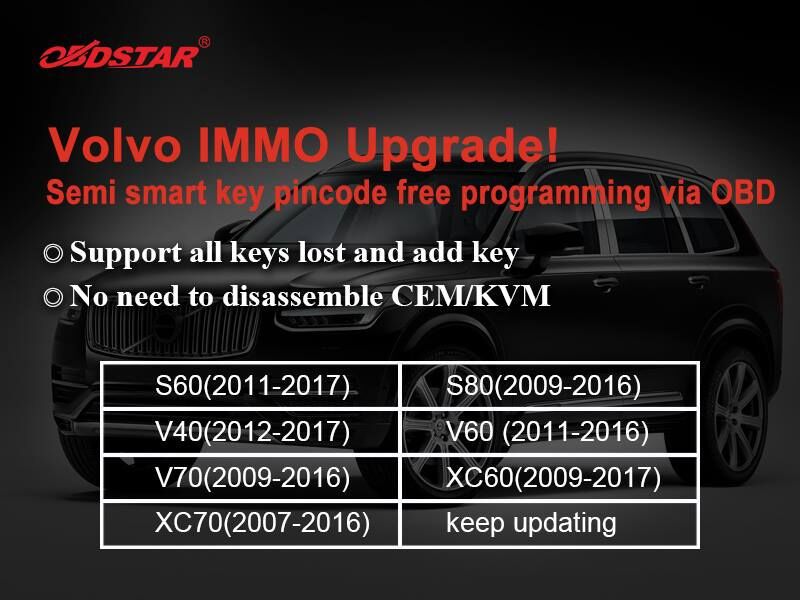 OBDSTAR X300DP/X300 PRO3 Upgrade on March 22nd, 2018
Hyundai & Kia 46 chip ordinary key
Hyundai & Kia 46/47/8A chip smart key
Hyundai & Kia All Series models pin code reading
No tokens limitation
OBDSTAR X300DP/X300 PRO3 Upgrade Announcement of February 2018
Cluster Calibrate
BMW:
Increased in FEM/BDC module the cluster calibrate, reading fault code, clear fault
code, energize without key functions.
IMMO
1. Increased following functions in Peugeot/Citroen/DS BSI system:
<1>CONTINENTAL BSI-Q0X: EEPROM Backup, EEPROM Recover, FLASH Backup.
<2>JC BSI04EV-K0X: EEPROM Backup, EEPROM Recover, FLASH Backup.
<3>JC BSI2004-H0X: EEPROM Backup, EEPROM Recover, FLASH Backup.
<4>JC BSI04EV2-KEX: EEPROM Backup, EEPROM Recover, FLASH Backup.
<5>SIEMENS BSI-S0X: EEPROM Backup, EEPROM Recover, FLASH Backup.
<6>SIEMENS BSI-E0X/BSI-F0X: EEPROM Backup, EEPROM Recover.
<7>VALEO BSI-N0X: EEPROM Backup, EEPROM Recover, FLASH Backup.
<8>VALEO BSIEV-X0X: EEPROM Backup, EEPROM Recover, FLASH Backup.
<9>VALEO BSI2004-P0X: EEPROM Backup, EEPROM Recover, FLASH Backup.
2. Roewe
Increased MGZS Key programming.
Increased Roewe 550 pincode reading.
Increased MG6 pincode reading.
3. PORSCHE increased key programming for following models:
Boxter(2005-2011)
Cayman(2005-2011)
997(2005-2010)
911(2005-2010)
4. Great Wall
Increased WEY VV5C/VV5S、VV7C/VV7S smart key system.
5. Renault
Increased IMMO system 7, type 8.
6. BMW
Increased in FEM/BDC module the ECU change function, engine ISN code reading,
energize without key, all keys lost programming.
Special Function
Tire Pressure:
1. Increased Benz-Mercedes tire pressure monitoring.
2. Increased Renault tire pressure monitoring system.
3. Increased Volvo tire pressure monitoring system.
Software Free Upgrade on Jan 27th, 2018! (for Key Master & Key Master DP)
Free Pin code reading for Peugeot/Citroen/DS All Key lost
●ECU model Auto Identity ●Pin code reading
Supported list:
SIEMENS D76F0018+95160 K LINE(BSI-E0X-00/BSI-F0X-00)
SIEMENS 1L00M+95128-95256CAN(BSI-S0X-00)
CONTINENTAL SC667050+95256 CAN(BSI-Q0X-00)
JC easyCAN4+29LV400BB+95128 CAN (BSI2004-H0X)
JC easyCAN4F1M-32+95128 CAN (BSI04EV-K0X)
JC SPC560B60+95128 CAN (BSI04EV2-KEX)
VALEO 2M48H+24C128 CAN (BSIEV-X0X-00)
VALEO 4L00M+95128-25128CAN(BSI2004-P0X-00)
VALEO SC667152+95256 CAN (BSI-N0X)

OBDSTAR X300DP BMW FEM/BDC Key Programming Free Update on Jan 17th, 2018
Function:
BMW FEM/BDC
1.Key Programming
Key Information
Key Programming Preprocessing
Step 1: Code data backup
Step 2: EEPROM Original Data Backup
Step3: Service Mode Data Generation
Step 4:Service Mode Writing
Step 5: FEM/BDC Module Programming
Step 6: EEPROM Original Data Recovering
Step 7: Code Data Recovering
Key Adding
Key Delecting
Function Introduction
Operation Guide
2. Other Function
Key enable
Key disable
Key status
Key frequency
INS reading
DTC reading
DTC delecting
BMW FEM/BDC key Programming Supported list:
Series Chassis Year
1 F20/F21 2011-2017
2 F22/F23/F45/F46 2014-2017
3/GT F34/F35 2012-2017
4 F30/F31/F32/F33/F36 2014-2017
X5 F15 2014-2017
X6 F16 2014-2017
Latest Software Upgrade on Nov 17th, 2017! (Free for OBDSTAR X300DP Full Configuration only)
VW/Audi
IMMO/Cluster Calibrate
VW/(NEC+24C64)2014.6- by OBD2
Audi/(NEC+24C64)2014.6- by OBD2
SEAT/(NEC+24C64)2014.6- by OBD2
SKODA/(NEC+24C64)2014.6- by OBD2
FORD
Pincode Free Matching
for New Mondeo/Edge/Taurus/Mustang/F150 2015- Models
Edge 2016+
F150 2015
Galaxy 2015+
Mondeo 2015+
Mustang 2015+
Ranger 2016+
Peugeot/Citroen
All-lost Pincode Reading by OBD2
Cluster Calibrate by OBD2
Hyundai
47 chip Pincode Reading
Benz-Mercedes
Cluster Calibrate for 205/222 with blocker
BMW
IMMO for FEM/BDC
OBDSTAR X300 DP Update Announcement on July 31st
2017-08-03 | View: 6927
1. Odometer Reset:
Solve NEC 95320 MM dash board type odometer reset function defects
Solve NEC 24C64_VDO dash board type odometer reset function defects
Solve Sagitar (2007-2010) CDC24C32 dash board type odometer reset function defects
Solve NEC24C32 dash board type odometer reset defects
Solve W251, W164 odometer reset defects
Solve the following models odometer reset function
Crown Victoria (2005 -), E250 (2008-2009), E350 (2008-2009), E450 (2008-2009), Escape (2008-2012),
Explorer (2004), F150 (2006-2007) F250 (2006-2007), F350 (2006-2007), F450 (2006-2007),
F500 (2006-2007), F550 (2006-2008), Five Hundred (500)) Flex (2008-2012), Focus (2005-2008),
Freestar (2006 -), Freestyle (2005-), Merc Mariner (2008 -), Town car (2005-),Taurus (2008-2009, 2004)
2. IMMO Remote Control Programming:
Issued VW Touareg IMMO
Issued Audi A6/A7/A8 IMMO optimization
Issued Audi Q5/A4L generation 5
Optimize Ford Ranger, transit (Transit) IMMO programming (BUG:1337, BUG:1338)
Adding the IMMO system ISO type
3. Diagnostic Models:
Adding Renault new models:
ALASKAN\AVANTIME\CAPTUR/KAPTUR BR/IN/RU\CAPTUR/QM3/KABIN\CLIO II PH6\CLIO II\CLIO III\CLIO IV\CLIO V6 PH2\CLIO V6
CLIOIIP2/3/4\DOKKER/KANGOO\DUSTER PH2\DUSTER\ESPACE IV\ESPACE V\ESPACE\ESPACEIV PH2/3/4\KADJAR CN\KADJAR\KANGOO II,ect.
Adding Daxia new models:
1304_PK_1_POINT_9D\1304_DS_1_POINT_9D\1305_PK_1_POINT_9D\1305_DS_1_POINT_9D\D_POINT__CAB1_POINT_9D\SUPERNOVA
SOLENZA\LOGAN\SANDERO\DUSTER\LODGY\DOKKER,ect.
Adding Renault – Samsung new models:
CAPTUR_QM3_KABIN\CLIO_IV\KOLEOS_II_CN_QM6_CN\KOLEOS_II_QM6\KOLEOS_QM5\LATITUDE_SM5\MEGANE_IV_SEDAN\NEW_SM3_FLUENCE_MEGANE
SAFRANE2_Point_0_SM5_DF\SAFRANE_2_Point_3_SM7_LF\SCALA_SM3_CF,ect.
Adding Mercedes-Benz new models:
CLK-series\E/CLS-series\CLS-series\S/CL/Maybach- series\CL- series\SL/SLR/SLK- series\SLR- series\SLK- series\M/G/GL/GLK- Series\M-series\G-series
GL-series\R-series,ect.
Adding Maybach new models:
240.078 MAYBACH 57\240.079 MAYBACH 57S\240.077 MAYBACH 57 S\240.178 MAYBACH 62\240.179 MAYBACH 62S/R\240.177 MAYBACH 62 S,etc.
4. optimization
Optimize VW reset airbag
Optimize VW throttle
Optimize B30 VIN all 00 flashback (1334)
Optimize VW oilrvice reset
Optimize VW steering angle reset
Optimize VW EPB
Optimize VW battery matching
Optimization software (to solve the problem of DP device can not be tested)
First Issue FR language
Solve the error and content returns problem when diagnostic device enters the connection detection
Solve the multiple content coverage APP crash problem
Solve the APP crash problem during software update in Thai language
Solve the VCI.BIN failed to load when double click the diagnostic models list
Remove the password operation to clear fault code
PASU version adds ALTO 800 ID46 (Blank) IMMO system
Optimize Buick Royaum key programming
Optimize Chevrolet Koros
Optimize the Bluetooth communication of Audi Q7, A6L generation 4 (EEPROM backup)
Optimize NEC 24C64 read IMMO data algorithm
Optimize Transit IMMO system (BUG: 1302)
Solve the system entry failure of Corolla – 06 / 2004-> / Avensis – <- 04/2005 / LEXUS – Gs430
Optimized 510 smart key programming function security verification
Key Programming
Adding 310 Wagon smart key system function support
Added DX3 smart key programming function
Addingd Roewe ERX5, I6 smart key programming
Added Roewe 360 smart key programming
Added KWIND model key programming function
5. Injector Code
Adding injector code function new models
Audi
Automatic scanning
Manual selection
A1
A2
A3
A4
A5
A6
A7
A8
CABRIO
Q3
Q5
Q7
R8
RS3
RS5
S2
S3
S5
TT
TTRS
TTS
Chrysler
Automatic scanning
Manual selection
Cherokee (free light)
2014
2015
Ram 3500 Pickup
2011
2012
Ram 4500/5500
2011
2012
Town & Country
2011
300/Magnum/Charger
2006
2007
2008
2009
2010
Challenger
2008
2009
2010
Commander
2006
2007
2008
2009
2010
Grand Cherokee
2005
2006
2007
2008
2009
2010
Wrangler (Export)
2008
2009
2010
OBDSTAR X300 DP Newly Added ODO + IMMO + Fuel Injector + DPF: (Update Announcement on May 27th)
Odometer Reset:
K line odometer reset Model(M2) for AUDI/VW/SKODA/SEAT are added.
VW Golf 7 models are added.
Chassis W169 for BENZ A serial by OBD are added.
Chassis W245 for BENZ B serial by OBD are added.
Chassis W204 for BENZ C serial by OBD are added.
Chassis W209 for BENZ CLK serial by OBD are added.
Chassis W207(E-COUPE) for BENZ CLK serial by OBD are added.
Chassis W218 for BENZ CLS serial by OBD are added.
Chassis W212 for BENZ E serial by OBD are added.
Chassis X204 for BENZ GLK serial by OBD are added.
Chassis R197 for BENZ SLC serial by OBD are added.
Fuel Injector(Primary Issuance)
Fuel Injector for Chery models are added.
Fuel Injector for Dongfeng Honda CR-V, CIVIC, SPIRIOR are added.
Fuel Injector for ACCORD, CITY, FIT, ODYSSEY, EVERUS S1, CRIDER
Fuel Injector for Acura are added.
Fuel Injector for Honda models are added.
Fuel Injector for Changcheng 4D20 Boshi Diesel engine, 4D20 Delphi electronic control system, and Liaoning Xinfeng electronic control system.
Fuel Injector for Zhengzhou Nissan Ruiqi ZD28 Engine and ZD25TCR diesel engine.
Immobilizer:
The 4th and 5thgeneration for the programming of VW/AUDI/SKODA/SEAT are added as follows:
CDC+24C32 Types
NEC+24C32 Types
2013 Johnson Types;
Motorola 9S12XHZ512 Types;
NEC+24C64 Color Screen- Type 1
NEC+24C64 Color Screen- Type 2
NEC+24C64 White Screen Type
NEC+24C64(VDO -12)Type
NEC+95320 Type
NEC+35XX Type
Magotan/ CC Type
Q7/A6L(C6)9S12DT(G)128 Type
Q7/A6L(C6)9S12DT(G)256 Type
Lifan Marvell models are added, which includes Add/Clear Keys, Program/Delete ESCL functions.
Jiangling MU-X models are added as key programming and key clearing.
DPF Function:
DPF for Renault is added.
DPF for Range Rover Sport 2014 is added
Newly Add Ford and Chrysler Diagnostic Function, you can visit official website for update!
OBDSTAR X300 DP One Key Update: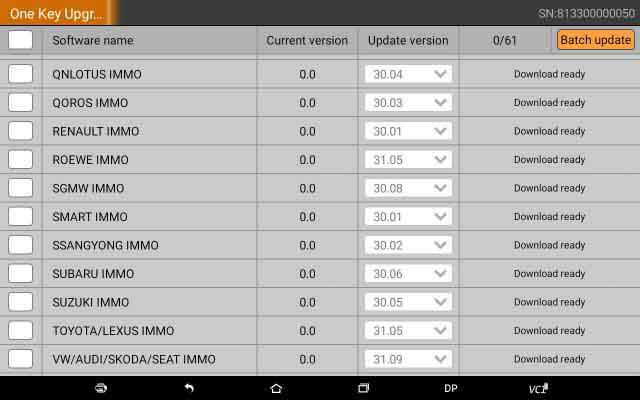 Tap main screen "batch update" , start downloading and upgrading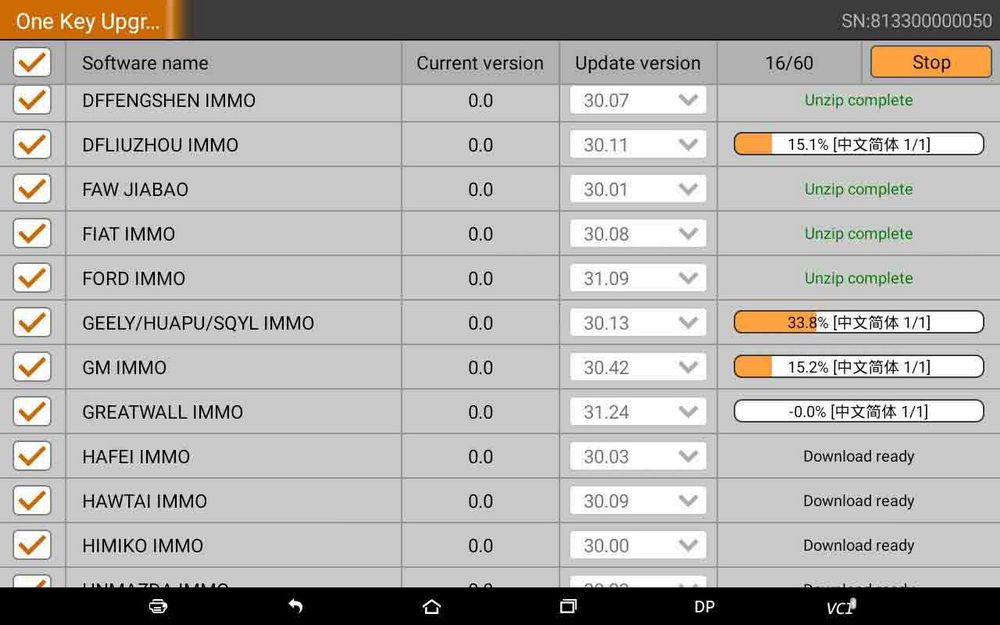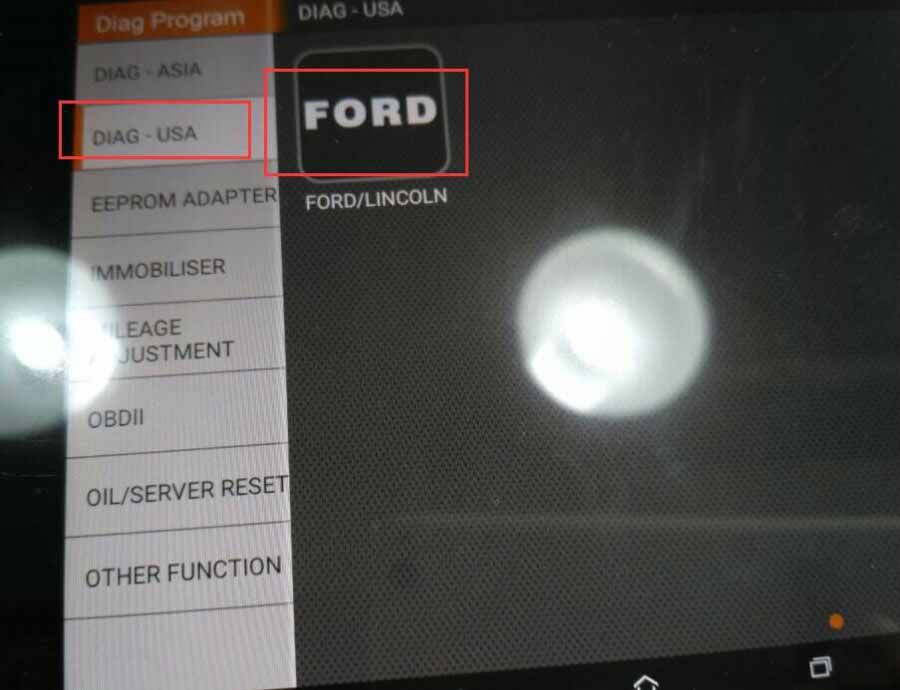 OBDSTAR X300 DP User Manual
Before you use OBSTAR X300 DP,please read the user manual carefully.OBDSTAR X300 DP User Manual include product introduction, preparation before using,how to diagnose… you can click here to download obdstar x300 dp user manual.
Customer 1: Its excellent on honda , including rematching ecu and immo after flat battery , paid for itself on these alone , ive done odd new model fords that other kit has struggled with , honda its excellent , late ford its good , been reliable on hyundai and kia though i use gscan on these now , mazda its very good on . its bailed me out when mainstream units have failed . it has its issues but has paid its way many times over for me.
Customer 2:I can reset g- key with obdstar, not h- key.Programming h key in Virgin box works fine.For smart H reset, i use Tango.These are European types.
Customer3:For me , I create the key with 7936 firts with vvdi2 and after I program a flip key (with remote) with a obdstar X300 . Because X300 can't do all key lost but can add flip key via obd if you have a working key
Customer4:Obdstar can do TOYOTA h chip and Nissan 20 number pincode flawless, mazda smart key is good ,gm useless ,renew remote function is good.
Customer5:obdstar x300 is good at nissan including reading bcm and calculating pincodes just obd2.2).Obdstar can do toyota h chip and nissan 20 number pincode flawless, mazda smart key is good ,gm useless ,renew remote function is good.
OBDSTAR X300 DP Screen Display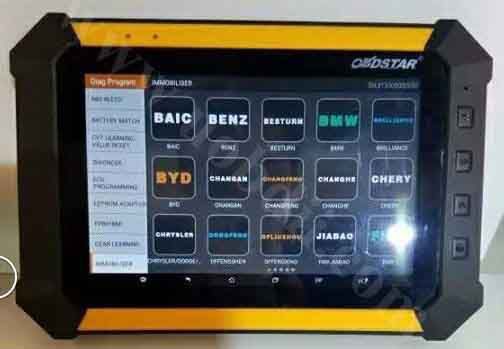 OBDSTAR X300 DP Packing List:
X300 DP Tablet Computer
5V DC Adapter Power
12V DV Adapter Power
Adapter
Adapter Board
USB Cable
OBD15P Main Cable
Pin adapter
HONDA-3
HYUNDAI/KIA-10
OBD II-16
KIA-20
Product Certification
User's Manual
Item Pictures: