QUICK DETAILS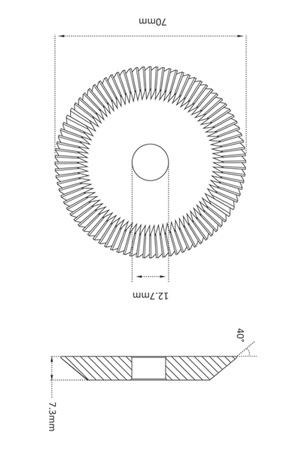 RAISE Ref. :HJ-0011
Material:HSS-TiAlN
For machine:201A,201B,201C,201D,100D,100E,100E1,100F,100G,101,219,219A,Q27, Q11左刀, Q27A,100F1,201D, JA-301
D[mm]:70
d[mm]:12.7
Thick[mm]:7.3
Replaceable cutters00011#
*Click the machine name to get all the cutters for this machine
1FOR MACHINE201A,201B,201C,201D,100D,100E,100E1,100F,100G,101,219,219A,Q27, Q11左刀, Q27A,100F1,201D, JA-301
2SAME SIZE CARBIDE ANGLE MILLING CUTTERP-1038 0011BC.C
3FEATURES1.Material: It is made of HSS-Co(HSSM35) material imported from Japan, high temperature quenching, hardness reaches HRC64-65, ultra-high temperature quenching, high hardness, copper key and iron key can all be cut, good wear resistance, Durable.2.Production process: Using full CNC grinding machine, full grinding technology, with sharper tip so as to cut the key easoer. The cut key is smooth and burr-free.3.Black TiAlN coating process: imported nano-coating equipment for high hardness coating, good friction properties can reduce cutting, coating hardness 3500HV, very high thermal resistance, wear resistance increased by 50%, comprehensively beyond yellow TI coating cutter.4.Suit for machine: It is suitable for all kinds of key machines. It can be used by any quality machine. It does not need to change the machine. It can process copper keys and iron keys on same key machine. No longer needs to change the cutter.5.Packaging: single-piece independent packaging can prevent collision during transportation.
4READ BEFORE USING1.Before running the machine, it is necessary to accurately  adjust the cutter to ensure the key blank is matching with the mother key,  and to avoid the tool being broken due to the unstable key assembly.2.The cutter is clamped on the machine and the key blank and the mother key are fixed on the clamps. Do not clamp the key blank too tight. The patent key is close to the tracer and the key blank is close to the cutter. If the key blank is not fastened, the key blank should be removed and re-clamped.3.When the machine is not running, clamp the cutter and cut from the left-to-right to check if the position of the parent key and the key blank are uniform. If not, re-clamp again.4.After the machine is running, should wait the cutter is fully rotated before cutting.5.When the key blank is close to the cutter, the clamp should be held to prevent the key blank from hitting the cutter after the cutter is fully rotated before cutting. So the first cutter tip which just touched the key blank won't be damaged by uneven force.6.When start to cut the key, it should slowly to push the clamp which fixed the key blank, so that the cutter tip won't be damaged by uneven force.