Xhorse vvdi (XSTO00EN) XM Series Toyota 4D 8A Smart Key PCB Board
Xhorse XM series Toyota 4D/ 8A Smart Key PCB XSTO00EN 
Note: 
it will cost 200 points for the frist time to generate the XM smart remote.
if you renew it and re-generate it again, no need cost any points.
Support 312MHz 315MHz 314MHz 433MHz.
Support renew and rewrite (re-generate) again
Require 200 points for the frist time. Rewrite does not require points. 
Compatible device: VVDI Key Tool Plus, VVDI2, Key Tool Max, Mini Key Tool
Compatible with 40bit , 80bit , 128bit, single frequency and dual frequency  
Note: please update Xhorse APP to V2.1.3 at least.
Xhorse APP Update V2.1.3
-MINI KEY TOOL->vehicle remote->Add XM smart key generation
-MINI KEY TOOL->Special Function ->Add XM smart key customization and toyota smart key frequency setting
Support version (board numbers): 0020 3370 6601 0111 2110 5290 0031 0310 0182 7930 A433 0030 3330 7980 F433 0010(-part) F430 0780 0140
Frequency: 
8A 
312.10/314.35  
314.00/315.10
314.35/315.10
433.92
312.50/314.00
433.57/434.41
4D 
315.12 312.50 433.92 314.35 314.00
Support Toyota Models: 
Camry (08-17)
Alphard (-12)
GS400 (13-17)
CT200 (2015)
RAV4 (08-19)
Sienna (05-15)
GS430 (13-17)
NX200 (2016-)
Corolla (08-18)
Previa (07-)
IS200 (13-17)
RX450 (15-)
Levin (-18)
Wish (2018)
IS300 (13-17)
BRZ(-14)
Land Cruiser (08-20)
E'Z (-15)
ES330 (13-17)
Toyota86(12-14)
High lander (09-19)
Vios (08–13)
RX270 (14)
Crown (10-17)
GS3300 (13-17)
CX460 (2010)
REIZ (08-12)
ES300 (13-17)
Land cruiser Prado (08-20)
        
Upcoming update version:
        3370, 5290, 7930, 7980, 0031, A433, F433, 0140, 0111, 7930, 7980, 0310, 0120, 0410, 0440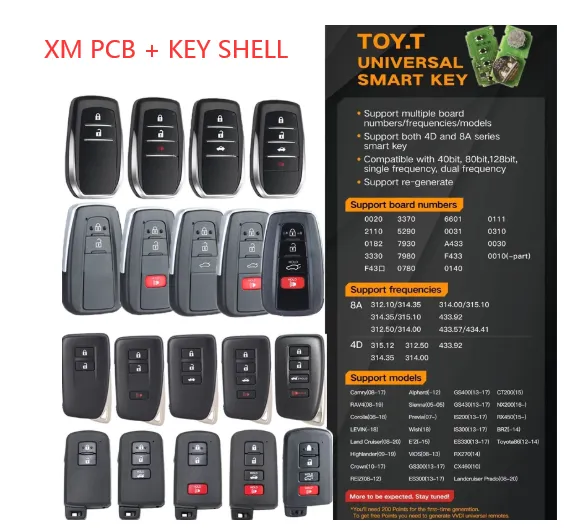 FAQs:
Q: Is it for Toyota only? what about Lexus?
A: It is for both Toyota and Lexus.
Q: it has programmable ID?
A: Yes can change ID and frequency as you like.
Q: is XM key the old or new remote?
A: depends on the PCB code , check the xhorse App , all list is supported we tried on 2010-2013-2016-2018.
Q: There are only 315 frequency?
A: It has 312MHz 315MHz 314MHz 433MHz optional frequencies.
Q: How much is the XM smart key?
A: Per smart key PCB takes US$51.99 free shipping.
Q: Do regular universal prox not work with the Toyota prox systems?
A: No, you need special ones. There is a list using the XM smart key.
Q: only mentioned xhorse key tool but no mentions of vvdi2 and mini key tool.  Can i use the XM key with vvdi2 and mini keytool?
A:  The Toyota XM smart key can be used with xhore vvdi2, key tool max, mini key tool and vvdi key tool plus pad.
Our engineer tested it with VVDI2,  2010-2015-2018 all working and proxy antenna is very good
Q: i have both mini key tool and vvdi2, the vvdi2 is for the transponder and the mini key tool is for the remote side of it?
A: mini keytool just to renew it and change frequency , generation is accurate and good via vvdi2.
Q: XSTO00CH TOY Toyota 8A Smart Key can be used on  toyota prius 2007-2014?
A: No, it cannot.
Q: Is there a car list of the Xhorse XM smart key?
A: Check list above or download xhorse app. There is red PROX icon in Toyota menu if the XM key is required.
Q: Does it require points to generate?
A:  You will need 200 points for the first-time generation. To get free points you need to generate VVDI universal remotes. Rewrite does not require points.
Q: Supports rewrite?
A: Yes, it can be renewed and rewrite.
Q: Can it also work for Lexus LX570 year 2014?
A:  No, it cannot.
Q: Does it come with key shell?
A: No, only key PCB.
If you have any problem, please feel free to contact us.